Music Reviews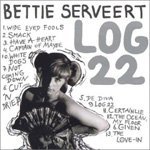 Bettie Serveert Log 22
(PIAS)
Buy it from Insound

As the dubious pop bombast of opening track Wide Eyed Fools gives way to an ill-advised monologue about "what it's like to be depressed" it becomes immediately clear that Log 22 is not going to see Bettie Serveert recapture the glory of their cult debut album, Palomine. Right now I can hear a sizeable portion of you asking "Palo-what?" and to be brutally honest, it's a mighty reasonable question. After all, Bettie's debut was released way back in 1992, when Pavement were the hip college kid's flavour of the month, and the future looked good for Holland's finest female fronted indie-rockers.
Sadly, things soon turned sour for the Amsterdam quartet, when after two patchy attempts at matching the jangly joys of Palomine, Matador gave them the boot. A bizarre tribute album comprised entirely of Velvet Underground songs followed, before the band's comeback album proper Private Suit was released in 2000 to mixed reviews.
Log 22 sees Bettie Serveert taking another bite at the cherry, and for the most part, it's just as forgettable as the rest of the band's mid-to-late-career outings. Worse still, some tracks even fail to reach that modest standard. Take Captain of Maybe for example - a slushy, directionless, ballad with the e-bow line from hell, it makes for a truly horrific listening experience. Given is inoffensive enough, but the fact that a band could commit such uneventful track to tape smacks of either grave stupidity or ridiculously unfounded self-belief.
The album's running time - a hugely over ambitious, and at times torturous, 61 minutes - provides further evidence (if required) in support the latter. I'm all for getting my money's worth but this album could have been easily condensed into half that.
It's not all doom and gloom though, asLog 22 does have its more acceptable moments. White Dogs for example, comes as something of a revelation, set as it is, a good forty minutes into the album. Despite outstaying its welcome by a good three or four minutes, its menacing rhythms, clearly influenced by the Velvet Underground, easily provide Log 22 with its most memorable moment. The admittedly cluttered Smack provides another highlight. An enjoyable slice of arty guitar pop, it's hindered somewhat by the most indulgent production job I've heard in 2003. Sadly, this sloppy 'anything goes' brand of production is all over Log 22, and Smack certainly isn't the only promising track to be tarnished.
But ultimately the band must take the majority of responsibility for Log 22's flaws. Their desperation to make an artistic, musically diverse album is undoubtedly the key to this album's failure. On previous efforts they may have been guilty of chasing their own shadow in an attempt to emulate the success of Palomine; here, it's a different story altogether. Moving on is all well and good, and in most cases should be applauded, but Bettie Serveert's problem is that it just sounds far too forced. Their days may not be numbered just yet, but whether Bettie Serveert will ever be able to look naturally towards the future without being tortured by their past, remains to be seen.
20 April, 2003 - 23:00 — David Coleman