Music Reviews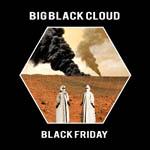 Big Black Cloud Black Friday
(Eolian Empire)

Remember when punk rock made a comeback in the 90s? Wasn't that cute?
I'll admit (albeit with a heavy heart) that I'd been somewhat receptive to many of the melodically informed punk bands that either emerged from nowhere or returned from obscurity (ready to accommodate the then-essential addition of melody, no less) after Green Day had more or less fucked up the paradigm with 1994's Dookie, and hindsight has gone a long way in enforcing my shame. No amount of "Our Father's" will cleanse my past allegiance to the Epitaph catalogue or justify my ownership of certain items, (none of which will be divulged for the purposes of this review. After all, we're critiquing a band, not my shitty taste as a musically stupid teenager whose taste had just begun to bud).
In acknowledgement though of the mall-friendly, über-melodic and cuddly grade of "punk rawk" the 90s had to offer, I have found much comfort in the current decade as punk rock hasn't sounded this good in some time. Why? Not sure. All I know is 2010 brought OFF!. In contrast, the ill fated attempt at revivification involving Keith Morris in the 90s led to a Circle Jerks single that featured Debbie Gibson backing up the hook. Perspective, anyone? Instead of providing other concrete examples so as to justify my claim, I'll discuss the newest album from Portland noise rockers, Big Black Cloud.
I was more than happy to ingest this atonal salute to noise-addled eccentricity called Black Friday, which is 30+ minutes that exemplify much of what AmRep and Touch & Go attached their brand to. With a "no future!" nod and an urgent, chunky low end vibrating beneath some shrill guitar work, the album opens with Cities of the Red Night, a rush of anti-clarity and distorted antagonism that's consistent through most of the album.
While I can't say Black Friday never strays a tad from the mark, Big Black Cloud (guitarist/vocalist Nick Capello, bassist/vocalist Soo Koelbli and drummer Travis Wainwright) is as preoccupied with oddity as it is with aggression. The instrumental Terror of Cosmic Loneliness is rhythmically off-balance while some bastardization of Link Wray inspired surf tone is plucked and shaken. The melting instrumentation of Bomb My Brain is followed by ascending trumpet blasts in the immediate Barbaric, Mystical, Bored. Wastoid attempts some variation on The Jesus Lizard-styled fit of sonic shrapnel while Capello's vocal seems based in the legacy of Jello Biafra or David Yow.
Yes, influences aplenty, and while acknowledging some possible areas of derivation, I'd also tap The Notekillers for some of the band's guitar tones and rhythmic mutations, namely those found in the aforementioned Terror of Cosmic Loneliness and the title track, which is also an instrumental. And, then I can't help but namedrop Greg Ginn for Pile of Shit, its guitar strained notes acting atop the hook as off-key as anything relative to late era Black Flag. Hate Myself (quoting Joan Jett to some extent) might as well be Flag's Swinging Man from 1984's My War.
Still, theirs is a studied and owned variation of the past, hardly a throwback. Human Host is interestingly theatrical, its nerve-inducing tension built by a sinister low end and repetitious chants from Koelbli as Capello belts out the title, "HUMAN HOST!" Coming down on the bass line, Wainwright concentrates on the snare/cymbal combos in Medusa while the guitar is bowed, resultant in a sound that ranges from rusty violin to melodic bedspring. Medusa is Big Black Cloud's jam tune, the intro notwithstanding. Koelbli locks onto Capello's guitar riff and brings in some interesting bass tones, some of which recall Liars' Sisterworld LP. It's a great closer, showcasing some improv chops alongside the band's penchant for atonality and taking Black Friday up a notch in terms of attribute.
25 July, 2013 - 05:13 — Sean Caldwell