Music Reviews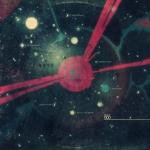 Big Black Delta Big Black Delta
(Masters of Bates)
Buy it from Insound

It would probably be fair to say that there's more than a hint of dorkiness to Mellowdrone frontman Jonathan Bates' Big Black Delta side project. As if the wanky name that he's chosen to for his own record imprint with wasn't enough of a tip-off, there's his fondness for tinkering about with robotic voices, or for brash, endearingly OTT synthpop in general, such as former single IFUCKINGLOVEYOU; a little bit LCD Soundsystem, a bit Bond theme on fast forward, a touch mid-00s post-punk revival, and a whole lot of Phoenix, which culminates in Bates screaming that title over and over in an enjoyably ridiculous way.
Despite such borderline awkwardness, it would be fair to say that Big Black Delta's first album more than delivers on the first part of their (or rather his) name; everything here is written large (and then some). More recent single, Side of the Road sees him briefly drop the vocoder trickery to roll out a bang-on impression of David Byrne, Money Rain Down offers a convincing take on smooth-toned romantic funk, complete with a minimalist horn section that (perhaps incongruously) stays just the right side of tasteful, while Capsize and Betamax go for dramatic yearning, but render it through dreamily hazy filters. All while massive arpeggiated synth riffs and driving electronic beats clash overhead.
And yet, considering Big Black Delta contains more than a few of the year's best musical moments, it seems odd that the record itself isn't more compelling. In truth, it seems that he's offering far too much of a good thing; it's not until track ten, Dreary Moon – a lovely (despite the uninviting title), almost familiar, in a classic sort of way, ballad that adds a chorus of relatively untampered with voices to the mix - that the pace really lets up much (and when it does it doesn't so much interrupt the fun as bring it to a grinding holt, as the last three, less successfully melancholic tracks show). Given that this isn't Bates' sole alter-ego outside of his main band (he also moonlights as a sometime member of M83, amongst other roles), it could be said that he's stretching himself a little thin, or rather, while there's the impression that his dogged pursuit of refining one particular sound was a lot of fun for him, it doesn't offer quite so much for the listener. Indeed, there's an almost chronic shying away from sincerity, as the sort-of punchline to Huggin and Kissin's romantic advances shows.
It could be said, in fact, that given the general openness of his other work, the affection for vocal manipulating here is a sort of disguise, that occasionally sees Bates work too hard against his natural instinct for melody (none more so than the opening track, which sets itself up as a pounding, anthemic start but features just a bit too much fiddling about for comfort). As it is, Big Black Delta offers more than its fair share of thrills, but there's the sense it could be so much better if Bates didn't feel the need to draw the line quite so clearly between his various projects.

8 May, 2013 - 04:23 — Mark Davison