Music Reviews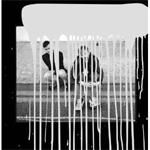 The Big Pink Future This
(4AD)
Buy it from Insound

For those of us long enough in the tooth to have actually lived through the 1980s, the current obsession in the retro industry for that decade can seem somewhat perplexing. With the benefit of hindsight of course, there was a great deal of really great mainstream pop music around that is worth revisiting (I'm not even going down the 'alternative' road – that's a whole other story). But at the time the charts seemed dominated by the Stock, Aitken and Waterman axis of evil, as well as other insidiously catchy but ultimately vacuous synth based pop. It was difficult to see beyond this morass of sickly syrup, and I for one sought solace in the more visceral delights of Metal and Hardcore. What people often forget is that the more interesting pop bands of the time – Japan, Human League, OMD, even Eurhythmics – had their roots in post-punk and the avant-garde, referencing Kraftwerk, Eno, Terry Riley, Industrial and minimalism. Today's 80s-obsessed hipsters (and I'm thinking the xx, La Roux, Owl City, among a horde of others) seem to have missed this, and their points of reference go no further than that second generation, resulting in a hollowness - not of sound, but of spirit.
All of which leads me to The Big Pink, a duo comprising Robbie Furze and Milo Cordell who have connections to various electro acts such as Alec Empire and Klaxons. Future This is the band's second album. The first, A Brief History Of Love, was largely well-received in the media, coming at a time (2009) when their trademark sound was reaching the apex of the zeitgeist. Future This is named after the slogan of a 1980s skateboard company, and it continues in much the same vein with a clean, polished sound – as if it has just emerged from the synth-pop showroom. Stay Gold is the first track, and it sets up a template that the band doesn't diverge from much for the rest of the album. Everything seems pushed right to the front of the mix with no room for the dynamics of light and shade – this is a LOUD album. That loudness, though, is at odds with its content which is, I'm afraid, uninspired and flat. Rubbernecking has a frankly cringe-worthy chorus, while 1313 seems to be aiming for a kind of late New Order, sensitive lads' sing-a-long. Their one attempt at introspection, 77, does suggest there is a heart to the band, but it's just not a memorable enough song to be really moving. There are occasional glimmers of something worth listening to again. A My Bloody Valentine-like guitar wash surfaces from time to time, while some of the beats are strong enough to survive on their own, without the lacklustre songs layered like a pudding over the top. It's these details that one feels the band should have picked up and run with, to make a more satisfying and complete record.
In the end it's hard to fathom just who is going to really love this album. The songs aren't catchy or danceable enough to appeal to pop kids; there's not enough grit and abrasion to appeal to the noise brigade; it's not dark or moody enough to appease the 80s Goth element. It falls uncomfortably between all three stools while the one thing that could have saved the album, i.e. a clutch of really good songs, is sadly missing. The sheen of the production and the sheer bluster of the arrangements are not sufficient to cover over this short-coming. 4AD have released some truly ground-breaking music, much of it in the 1980s, and they continue to do so (Gang Gang Dance's Eye Contact was my album of 2011), but Future This will not be joining that illustrious roster.
13 January, 2012 - 10:06 — David John Wood