Music Reviews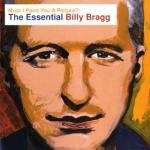 Billy Bragg Must I Paint You A Picture? The Essential Billy Bragg
(Cooking Vinyl)
Buy it from Insound

Punk did a lot of things. Most importantly in the long term, it gave inspiration to three of the greatest singer/songwriters around: Elvis Costello, Paul Weller and Billy Bragg. OK, so Bill didn't get his debut out till 1983 but long before then he was playing dive of bars with his band Riff Raff. He's always remained defiantly uncompiled (barring the b-sides/rarities round up Reaching To The Converted) but with 20 years having passed since the release of the Life's A Riot with Spy Vs Spy EP, the time has come for the Billy Bragg career round up.
For anyone born in the late 70's/early 80's the Thatcher years are a vague memory - recollections of the disillusion following the elections and the celebrations when she finally fucked off notwithstanding - so listening to Between The Wars, To Have Or Have Not provide vital touching points. Helped of course, by the quality of the songwriting. A New England will always sound fantastic, a line such as "People ask me when will I grow up to be a man/but all the girls I loved at school are already pushing prams" instantly showed Bragg had a knack of writing more then just political songs. He could put a smile of realisation on your face just as easily as furrow your brow.
As journalist Andrew Collins notes in the sleeve notes, Bragg is far more then a purely political animal. For every There Is A Power In A Union there is a The Saturday Boy - without question the best song about unrequited teenage love ("Thinking back, she made us want her/a girl not old enough to shave her legs").
Must I Paint You A Picture? wisely elects to cover the Bragg canon over 2 CDs. The first CD going from his early solo guitar gunslinging days to the ultimate heartbreak Workers Playtime album. CD1 closer Waiting For The Great Leap Forwards sees Bragg backed by a full band for almost the first time - a direction he would follow with his later albums.
It's on CD2 that we see him recording with three different bands - the Red Stars, the Blokes (his current mob) and Wilco, with whom of course the much lauded Woody Guthrie Mermaid Avenue project was undertaken with. Given that each of his solo albums are very heavily represented (Bragg never having been one for releasing many singles), it's a little disappointing that the collaboration is only represented by four songs over both albums.
Going over 20 years, there is a large disparity between the angry young man who made the cover of the NME and the committed family man of today - NPWA and Take Down The Union Jack show a man who hasn't grown apathetic in middle age but whose writing is now tempered by experience. The latter, which saw Bragg make a somewhat incongruous return to Top Of The Pops, finds our man railing against the concept of Britain - 'it's just an economic union that's past it's sell by date.' Though it's somewhat sad that only a man in his 40's is writing such songs, it's still a straight out Bragg classic.
With nothing in the way of rarities, this isn't a purchase committed Bragg listeners are going to find totally necessary, and some may quibble over the tracklisting - do we really need six songs from Don't Try This At Home (though Accident Waiting To Happen is here in it's single format) when no room was found for the still worryingly relevant 1985 single Days Like These. Any song with the lyric "Being resolute in the conference with the ad man's expertise/The majority by their silence shall pay for days like these" should be heard by as wide an audience as possible.
Minor complaints all. Those reluctant to fully immerse themselves in the world of Billy may find a lot to convert them here. Waiting for the great leap forwards? Time to bring it onwards.
* Limited editions feature an extra CD containing a version of the Riff Raff classic A13 Trunk Road To The Sea (possibly the only song to namecheck Shoeburyness) alongside several cover versions - including takes on songs by John Cale, Love and the Rolling Stones. As a 3CD set, it's even more essential.
23 November, 2003 - 00:00 — Peter Mattinson