Music Reviews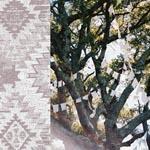 Bird By Snow Common Wealth
(Gnome Life Records)

Inasmuch as Justin Vernon's (Bon Iver) log cabin break-up album, For Emma, Forever Ago, won critical acclaim, hearing Vernon's heartache-as-influenced-by-natural-setting adorn his guitar strings with lonely snowflakes, his exhalations and professions visibly leaving his mouth and floating in the cold despair… Yeah, I can't argue that it's a genuine album and that it's absorbed in a degree of isolation you can only achieve by being isolated.
Performing as Bird By Snow, Fletcher Tucker and Spencer Owen's off time psych folk album Common Wealth mirrors a landscape, a peaceable and sun bright spot where the air can bite your cheeks and chap your lips. Minimalist in every sense of the word, Common Wealth is an affecting and delicate album, lacking Vernon's cathartic needs and instead expressing quiet seclusion with analog sensitivity. The album's first single, Friends In The City, articulates this seclusion with a simple observation: "Every friend I have in the world lives in a city." Whether Tucker or Owen seek to reside in nature is unknown, but there's an essence to their surroundings that they manage to convey in this music, and Common Wealth is strong enough to take you someplace else with every listen.
A chill sets in with Wobbly Legs, its stark rumble and layered notes beginning the album as its lengthiest offering. With Common Wealth, it's difficult not to attribute most of the album's success to Owen's percussive arrangements, the rhythm he defines deepening the instruments' resolve. Aside from the aforementioned Friends In The City, Owen strikes well enough to make There Is A Marriage almost qualify as a rock song. The album's closer, Across The Water, is awash not only in Tucker's comingling instruments, but also rolls of drum passages that run through the song in semi-militaristic fashion.
And while Owen helps to create a unique stride, Tucker's presence resonates heavily in songs like Onewhiteflag, As We Are Now and Without Reaching, points where his voice and guitar can run dominance. It's not easy to make folk-flavored music different when singer/songwriters seem to emerge from obscurity as often as they fade back, but Tucker seems to simply know the notes and the words. This is music as natural as sunshine, rolling off his strings and keys like rain off a slick surface.
4 November, 2010 - 04:56 — Sean Caldwell