Music Reviews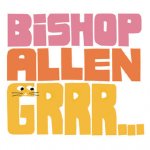 Bishop Allen Grrr...
(Dead Oceans)
Buy it from Insound

It's become almost a truism in our society, particularly when it comes to criticism of any kind. The most basic of stock responses to stagnation and inert irrelevance; "If it ain't broke, don't fix it." The phrase is a strange type of self-perpetuating looped circuit that is both symptomatic and reinforcing of deep laziness both on the part of bands and critics alike. Bands get at least decent reviews for not really doing anything new or challenging themselves and critics get to doll out "get out of jail free" cards and rehash earlier reviews of the bands work, really just having to change song names. We see bands try out new things, fail miserably, and get vilified by critics for failing to adhere to the golden rule of apathy. These instances are supposed to count as evidence for the idea, but personally, I give way more credit to a band who pushes themselves into new territory even if they fall flat on their face than bands who just do the same shit over and over and over and over. It really is an indefensible and stifling philosophy, especially when it comes to art (perhaps when we're talking about car safety experimentation it's a bit less necessary, though at the same time I think we'd all be dismayed if we made no advances in car safety through the next decade, say). That being said, nothing will ever stop people from trying to make the case for it, and Brooklyn-based pop big-leaguers Bishop Allen give the enterprise their all on their newest effort Grrr...
The pure toothache pop that the band honed over the course of their half cringe-inducing-self-promoting-name-hyping, half dogged indie band working hard for the people, 2006 12 EP project (where they released one EP per month for one year), is here in full effect (as one might be able to guess from the Hello Kitty cuteness of the title). Also, the production bells and whistles that the band learned during that project are even more obvious than on The Broken String, which followed up the EP project the next year. It's sort of like a kid who just learned a new, cheap move in Street Fighter II and now uses that move exclusively in every fight. Everything on here is whip-crackingly precise and well defined. Every word sung is enunciated as distinctly as if I were listening to a Rosetta Stone CD. The instrumentation, while coming off overall as a sort of unoriginal, buffet-style sampling of various contemporary pop idioms (hand-clap-begging la la la choruses? Check, swelling string bits? Check, totally "quirky" instruments? Check.), is well constructed and thoughtful and there are no shortage of mildly addictive, sugary hooks to keep you jittery for the majority of the record.
However there is this strange feeling that lurks beneath everything. The melodies are so saccharine, the beats are so peppy and eager to please that the entire affair teeters perpetually on the edge of cloying. It's like a bizarre, creepy carnival that seems ostensibly perfect, with awesome rides, pretty colors, friendly employees and great big animal suits wandering around giving out free candy and hugs forever, but that is secretly run by mutant child slaves who come out at night to round up any stray fun-seekers to grind up for food. Perhaps it's not as grave as all that, but this album gives off a decidedly Stepford Wives feel as I found myself constantly wondering, "are these people really that happy all the time?" Everything seems to beckon you in, inviting you to just surrender and like it, offering itself up fully much too easily.
Bishop Allen (read: songwriters and two permanent members Justin Rice and Christian Rudder) has always been known for their sort of high-end brand of collegiate lyrical sensibility, effortlessly spinning Harvard English class witticisms and instantly coming back at themselves with even more nimble repartees. On Grrr... this characteristic erudition is beefed up like never before to the point where one might not be faulted for mistaking the album for a particularly well done caricature of the band. Vocalist Rice has never before been as openly cognizant of his own adorableness and the tone of nausea-inducing sugar rushes is set from the opener, Dimmer, where he warbles "olly olly oxen free/can you see me." Ugh. Or the line "Oh pobrecita!/ tragic little teacup" off of The Lion and the Teacup. I could sit here all day and go through the lyrics but what's the point? At base, the majority of these songs are inane, all-too-self-aware exercises in labored and overdone, hyper-literate cuteness. It seems like this album presents some evidence for an addendum to the original maxim we were discussing; "Sometimes not being broke is the best reason of all to do some fixing."
The album is not an abject failure however, as there are bits, just tiny bits, of it that give off the faintest wisps of something more. There are single lines that one is able to tease out of the sticky mess that are arresting, almost elegant in places. "I was found out in the rushes/like a can of paint and old paintbrushes" off the track Oklahoma is a nice little example of the eye (however currently cataract ridden it may be) the songwriters have for striking everyday details. On Cue the Elephants, the album's only front-to-back good song, the band largely forgoes the cotton candy fluff of the other tracks, opting for a basically more elastic and open song structure, and slices of truly energetic guitar and drum work (perhaps the final dying embers of Rice and Rudder's punk roots). The lyrics even hint at something less than utterly joyous! Hallelujah! In the chorus of that track, Bishop Allen asks "Can you and me/save the city/I thought that we promised we would." I've got a more relevant question, one that I hope will someday be answered with a witty, articulate "Yes"; "Can Bishop Allen save themselves?"
26 March, 2009 - 14:15 — Gabriel Keehn