Music Reviews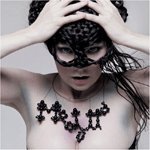 Bjork Medulla
(One Little Indian / Atlantic)
Buy it from Insound

It's fairly easy for me to write an introduction to a Bjork album review. At least five (or seven, depending on whether you count Selma songs and Gling-glo, plus the various remixes etc out there... ever feel like you're writing into a void) solo-albums in, Ms. Guðmundsdóttir has become the kind of figure equivalent to Bowie or Prince, creating work defined by her very presence, rather than the tangent taken (or some such rubbish, either way, I reckon a Bjork record is unmistakably a Bjork record). This time there's a varied supporting cast including various choirs, Soft Machine founder Robert Wyatt, The Roots' human beat boxer Rahzel and Mike Patton of Faith No More/Mr Bungle fame. I feared it might sound like a recipe for a messy unfocussed record. After a few listens I'm certain there are occasions when I should have more faith.
Medulla follows up Vespertine with a similar level of transition as occurred between that album and Homogenic. There's some of the frozen/warm ambience...ok, I admit I can't find a decent form of symbolism to express myself clearly here. Basically, bits of Medulla sound similar to Vespertine, but there's a marked distinction in the means of delivery and enough change to keep things interesting. For much of this record layered vocals replace the submerged beats of Bjork's last offering. On Sonnets/Unrealities XI (which has to be one of the most ridiculously affecting things I've experienced since the first time I saw Michael Radford's Il Postino (I didn't say I was proud...)) and Mouth's Cradle she combines with the Icelandic choir to create a disturbingly compulsive type of chamber soul music. Elsewhere the percussive accompaniment lends itself to a more extrovert ambience. Rahzel's beats make Where Is The Line sound like Dalek's landing on a foam trampoline, or a serene take on the Toejam and Earl soundtrack. Who Is It (Carry My Joy On The Left, Carry My Pain On The Right) gives the album its necessary moment of token pop brilliance. As usual the lyrics sound (to these ears at least) by turn awful/bristling with stark genius and clarity. Triumph of a Heart closes the album like a logical update of the Debut template.
I have to admit that I like pretty much every solo album Bjork has recorded, so I'm unable to say whether Medulla is an album that can change opinions. But from where I sit (sweating in the Californian heat as the fan in my room does its best John Kerry imitation (wooden but still preferable to the alternative)) some things don't change. I still can't express myself clearly when I get quite excited about something, and the latest Bjork album sounds fairly brilliant. Not so much to complain about.
11 September, 2004 - 23:00 — Tom Lee