Music Reviews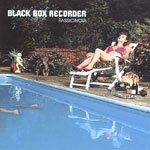 Black Box Recorder Passionoia
(One Little Indian)
Buy it from Insound

Back in the day, when Britpop was possibly hyphenated and certainly new, it referred not to a roll-call of mod-worshipping boys clubs, but to a disparate set of 90's dandies with an interest in fine haircuts and all things kinky and English. Amongst the corduroyed pioneers resided Suede, Pulp, Denim and The Auteurs. Supporting Suede on an early tour, The Auteurs won a troupe of loyal supporters in second-hand jackets for whom they recorded four albums worth of quite wonderful material (particularly their debut New Wave) before calling it a day, at which point their first fanzine was launched. They were just that sort of band. Luke Haines, the front and spirit of The Auteurs, had a back-up plan in the shape of side-project Black Box Recorder, who now occupy his energies. This, their third and awkwardly-titled album Passionoia, is partly a culmination of familiar Haines output and something of an evolution too, his infamous line in sunny-side-down cynicism having actually flowered into something faintly upbeat and funny.
It's all a far cry from beautiful and bile-ridden first album England Made Me, a sweetly sinister affair based around the concept that England is on its naff last legs, choked by an artifice that only sparse lounge-music can address. Though it provoked mild creaming amongst some critics, the record had problems with quality control, but the highlights, the perfectly executed Girl Singing in the Wreckage, a sublime bare-bones cover of Donna and Althea's Up Town Top Ranking, and the morbidly pleasing Kidnapping an Heiress, won the album extra stars. Follow-up The Facts of Life was a healthy step in a pop direction that seemed to suit them, somewhere between St Etienne and theaudience with more kick, earning slots in several 'Album of the year' lists and a Top 20 single (The Facts of Life) with a surprise appearance on Top of the Pops to boot.
Passionoia runs with this particular baton, out come the spangly keyboards and Bakelite pop, and louche camp is the order of the day as Sarah Nixey chants retiring, peeved posh-girl vocals over the shiny instrumentation of Haines and third member John Moore, who co-writes all the material here. Behind the neat glitz of Black Box Recorder's delivery Passionoia manages to maintain its baroque underbelly. The cover of the album captures the concept of BBR exactly; potted palms, poolside tuxedos, empty magnums of champagne and a corpse in the water (in BBR's world there's always a corpse in the water). Standout track The New Diana, for example, yearns for a life spent "lying on a yacht reading photo magazines". It's potential blasphemy to Dianaphiles, and in an ideal world would make a ballsy first single instead of the fairly trite These are the Things, and should ideally close the album with its gorgeous tune and dose of irony, over the meandering I Ran All the Way Home which does the job instead. It suggests that BBR have trouble playing to their strengths. If somebody somewhere doesn't let them know that with a half-decent remix they have a diamond club hit and potential gay anthem on their hands in the shape of the techno-pop spectacular 'Andrew Ridgeley', I'll kick myself lame. No matter. The first four tracks on Passionoia are a run of gems; repeat listening rewards you with hilariously glib lyrics and addictive melodic turns. Elsewhere When Britain Refused to Sing' is a weird dystopian tale of silence and melancholy, but the formula wobbles again on Girl's Guide to the Modern Diva, a blandish filler where the content is more interesting than the delivery, but which would probably turn out to be their biggest hit if released as a single.
Understatement can occasionally come over as pretentiousness, and BBR do have off-putting traits (annoying tempo changes for example). Plus, after listening to Nixey's ultra-sweet vocals for forty minutes you might just feel like hearing Sepultura for a while (I said might). But here, as elsewhere, they frequently touch on moments of absolute class, and at the very least already have enough good material in their back pockets to make their fourth album a seriously must-have Best Of. There could even be another evolution waiting in the wings.
10 May, 2003 - 23:00 — Greg Thorpe