Music Reviews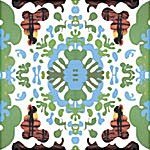 Black Dice Beaches and Canyons
(Fat Cat)
Buy it from Insound

Black Dice are four art students from Brooklyn via Rhode Island School of Design who have been lurking in the Brooklyn underground scene for a couple of years now. Feted by Sonic Youth and Godspeed You! Black Emperor, their early work - a mini-album and a series of 7" singles on US indie labels like Troubleman and Catsup Plate - gained them a reputation for terrifyingly brief stabs of sonic abuse. Their live shows, often characterised by injuries to audiences and band members alike - a bass player bottled by the singer, anal prolapse, that sort of thing - have found the band creating a reputation for provocative, often wilfully offensive sounds. The album Beaches and Canyons, however, sees the band at a transitional phase, moving away from the early art-punk influence towards epic, sculptured, almost geographical ambition.
Critical interest in the US has been impressive, settling into Rolling Stone's Hot List (ahem, alongside our very own Mike Skinner, in fact) and comparisons to other experimental fuzz-smiths have obviously followed. There's Pink Floyd, Can, Throbbing Gristle, and, of course My Bloody Valentine. One they forget to mention, of course - but, hey, they're not really that big in the States - is Mogwai, circa Rock Action or the prehistorically brilliant My Father My King, and there's a lot of the earnest focus of the Scottish ear-piercers here, whether directly or not. So tracks stretch to fifteen minutes, but nevertheless, the sonic waves and concrete slabs of feedback and dissonance follow strangely cantata like structures. There's also a lot of kraut-rock (which I believe is called cosmische by the politically correct), particularly in the band's insistence on processing. All instruments are fed through boxes and effects machines, and voices and howls occupy an interstitial zone between the mechanical and the demonic.
The Dice's sound is clearly one in process. Seabird starts like the ultra-minimalism of Pilote having sex with R2D2, before breaking into huge beats and a bit of the Scratch Perverts. And then lots of electronic birdsong. Things Will Never Be the Same on the other hand, opens with faint choral exaltations and road noise, before waves of sea noise drown the listener. Surprisingly, it's enormously haunting, and the distorted guitars and Japanese wind sounds that follow make it a perfect soundtrack for a Tarkovsky epic. Then it gets very frightening, as rolling tom toms and deafening hi-hat disguise what sounds like someone being chain-sawed to death, with fuzzy sub-noise, reminiscent of Sabres of Paradise's Haunted Dancehall, or maybe a nonexistent hidden track by Spiritualized. Horrible distorted vocals and savage industrial sounds usher in The Dream is Going Down, a track which would sit easily on the soundtrack to Pi. After about ten minutes it discovers the Kabala, mixing tribal chants, guitar loops and undersea noises. This theme continues on Endless Happiness, which is a lot like the whale-song album Mogwai should have made. The prehistoric percussion a la Mo Tucker is a sign of their punk roots, as is the Iggy Pop style screaming and pounding drums on Big Drop. It ends very suddenly, leaving you scared and restless.
Clearly an attempt to produce a massive US soundscape, Beaches and Canyons mines the self-assured innovation of Wish You Were Here mixed with a kind of Whitman-esque American vision. Maybe they're too wilfully art-school at times, but Black Dice are a welcome antidote to too many bands who look to the great groups of the past without realising that they were looking into the future.
7 March, 2003 - 00:00 — Ben Bollig