Music Reviews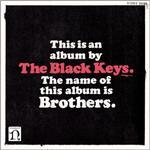 The Black Keys Brothers
(Nonesuch)

There's a fine line between consistency and complacency. Black Keys fans and critics alike know this all too well. For eight years now, the Akron duo has refused to stroll far beyond their little self-sustaining ecosystem of modernized blues. They are almost obsessive in their steadiness. Some might say they are frustratingly reliable.
And yet, only once have they released an album that was ultimately uninteresting – 2006's Magic Potion. That's a pretty good track record for a band with such a self-restrictive palette.
This all leads us to another solid release by the Keys. Without a secret ingredient like Danger Mouse to spice things up (except on one song), Brothers is the most conventional album The Black Keys have produced since Magic Potion. And yet, it manages to be a significantly better end result. It's fair to say the album has simplified the band's equation even further, recalling their early records like The Big Come Up and Thickfreakness. As the album title suggests, it's a no frills demonstration of the interplay between two old friends who've played together a long time and have known each other even longer.
When the band does explore new textures, they are subtle but affective. Howlin' For You is deliciously grimy, with Dan Auerbach's super-fuzzed out guitar and Patrick Carney's deranged, repetitive tom pounds. On the next track, She's Long Gone, Auerbach wails on his guitar in a way that makes it sound remarkably like a harmonica. The instrumental Black Mud, on the other hand, recalls proto-grunge Neil Young.
This all gives Brothers an echo of familiarity. One possible component in this back-to-basics approach is the recent ugly divorce Carney went through that allegedly left him emotionally devastated. For better or for worse, lost love can provide some of the best slow-burning fuel for the blues, and while Auerbach wrote the lyrics, the seething Next Girl could be seen as a raging episode of vicarious musical shock therapy for Carney.
One brother helping another. Letting out frustration through song. The Black Keys are like a two-man gang of idiosyncratic loners who have no one to trust but each other. At least that's how they sound on Brothers. This music may have been written for them and not for you or me. It may not outdo the courageous weirdness of Attack & Release, but that's because the band didn't even try. Brothers doesn't break new ground for the band, but it continues to affirm the band's soul, further demonstrating the unlimited power of blues music.
16 July, 2010 - 02:51 — Andy Pareti