Music Reviews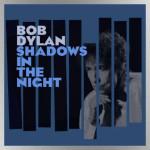 Bob Dylan Shadows In The Night
(Columbia)

If there's anything that can be said about cover albums at this point in musical history, it's that they've garnered a rather sketchy reputation. There's a lingering impression of haste, even laziness, as if the artist who released them was too pressed for time or low on energy to release an album of original material. Furthermore, it has become standard procedure for every great rock-and-roll musician to lean on the Great American Songbook from time to time. Let's face it: if it weren't for Sinatra, mainstream musicians would have dramatically fewer options to capitalize off old-school charm or impress listeners with their involvement in the hallowed annals of 20th century pop, blues, and jazz. Michael Buble—God forbid—probably wouldn't exist.
Unless, of course, Bob Dylan is singing the Great American Songbook. All of the songs on Shadows In The Night were at some point recorded by Frank Sinatra, which is not really a tremendous revelation given Sinatra's ubiquity. What is tremendous is how these songs are performed as though there were some long-lost pact between Ol' Blue Eyes and the Voice of a Generation. Classics such as I'm a Fool to Want You and Full Moon and Empty Arms have been buried under the weight of additional recordings, alternate renditions, and rearrangements, but through Dylan's husky croon, we re-encounter the eternal spark that made these songs endure.
The artistry on Shadows In The Night is as sharp as ever, which is a welcome reminder of how Dylan's songwriting is only half the story. The emotional electricity of his albums stems from his composed and ardent delivery and the sonic poetry of the arrangements surrounding this delivery. On Shadows, the pedal-steel moans and the soft contrast between the brass and Dylan's restrained baritone amplifies the sadness, the longing, and the yearning inherent in songs that for decades suffered brash, big band-style re-imaginings. Each track is slow-burning, infused with quiet, unrelenting intensity, and yet the recording is over in little more than half an hour.
Shadows In The Night's appeal lies in its nostalgic versatility. Listen to Stay With Me span the full continuum of heartbreak, from the self-loathing to the redeeming effect of being with the desired desire: ''Though I grope and I blunder/ And I'm weak and I'm wrong...Every path leads to thee''. The horns in That Lucky Old Sun emerge from silence like a rays of light from the titular sun, while Dylan's voice drips with lament. And for anyone who still hasn't expunged enough sorrows or lamented enough sins, the atmospheric twang of the pedal-steel in Autumn Leaves twinges with vulnerability in a manner incomprehensible to those who have not understood the condition of lonesomeness.
If Tempest was an epic tapestry of weariness, passion, and moonlit sadness, Shadows In The Night almost sounds like a carefully calculated follow-up. ''I've got daydreams galore/ cigarette ashes'', Dylan tunefully murmurs on Why Try To Change Me Now?. Dylan sings of a sense of futility as though he still feels the pull of deferred desires, even now at 73. One thing is certain however—his music remains and meaningful and as vital as ever.
11 February, 2015 - 04:31 — Luiza Lodder