Music Reviews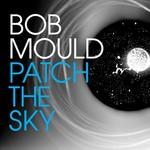 Bob Mould Patch the Sky
(Merge)
Buy it from Insound

Bob Mould's consistency as a solo artist is uncontested, so much so that it's increasingly become a challenge to distinguish his most important works. All of his post-Sugar repertoire teeters from acoustic mid-tempo balladry to brash, firebrand rock, though the desired goal in the past six to eight years has been to find beauty in the roughest of conditions. His unspoiled run with Merge has brought back a vigor that had been lost for a good part of the 2000's, mainly because Mould isn't too concerned with trying to become something that he's not. Patch the Sky is one of his fiercest records to date, though it slightly tones down the personal qualms that marred the aptly titled Beauty & Ruin to go back and pay obeisance to the increasingly-forgotten tuneful qualities of classic alternative rock.
Again, the differences will only become apparent to those who've been following Mould's trajectory very closely, seeing as an untrained casual listener may be quick to dismiss it as just another redundant Bob Mould record. But even when those criticisms come into question, the debate is never about the lack of quality but more so the lack of distinction. With bassist Jason Narducy and drummer Jon Wurster once again by his side, the three together have increasingly developed a burning chemistry that keeps the quality control high.
At first glance, Patch the Sky sounds like a companion piece to Beauty & Ruin: where Beauty fiercely captures an emotional cathartic turmoil, attributed to the loss of his father and his dwindling youth, Patch is more about the acceptance of loss and coming to grips with solitude. And yet he always puts his best face up and looks forward: "There's not much to do but pray for rain," an acerbic Mould quips on Pray for Rain, a power-pop scorcher comparable to Matthew Sweet on overdrive that, as straightforward as it sounds, continually keeps you guessing with its unimpeachably gorgeous melodic hooks. Other times, those internal demons try to get the best of him, and instead of clouding them he exposes them with stark susceptibility: "If I decide to listen to the voices in my head, strange hallucinations I avoid," he sings with a calm demeanor, putting forth a sustained acoustic melody reminiscent of the unhurried melodies of his debut solo release Workbook.
Mould's body of work will always depend on some sense of critical urgency, whether he chooses to examine his personality or his place in life. Patch the Sky is no exception. He's on a full-on conversationalist binge on Sky, though it'll demand your extra attention since the album's turbulent production tends to obscure most of his learned reflections. In spite of this, it wouldn't be a true Mould record if it didn't hit you with that pummeling, noisy sheen. He's forever indebted to the glorious, towering rock anthem, always placing those fingers right where they should be on the fret. A role he carries out with a level of expertise that only comes with experience.
28 March, 2016 - 04:53 — Juan Edgardo Rodriguez