Music Reviews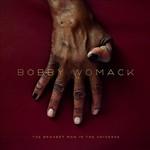 Bobby Womack The Bravest Man in the Universe
(XL)

"I could try to say I'm sorry, but that won't be quite enough…" is the incredibly appropriate opening line in Please Forgive My Heart. When you have nine lives, as Bobby Womack has clearly been granted, apologies are inevitable. Attempting to rationalize or predict where Womack places his specific tragedies and triumphs into his music is almost impossible. There's too many to count. Scandals in the public eye, losing two sons, fighting drug addiction and dealing with cancer are possible rock bottoms for any man, but not this one. In fact, in a 2011 interview with Zani Media, Womack talks about performing with the Gorillaz and the joys of forgetting reality while on stage:
"I said to myself, this is why I want to go back and perform, you can have an argument with your wife, or get arrested for not paying a parking ticket, but when you go on stage you can leave all that shit behind you."
Really?! A parking ticket? Of all the things to leave behind! I must say I'm impressed with your chosen examples, Mr. Womack. The Bravest Man In The Universe encompasses that feeling of insight. He has plenty of crutches to choose from, but why not just fucking forget it and keep moving? He does a spectacular job joining the next generation on this album. This is a man who's worked with Jimi Hendrix, Elvis Presley, Dusty Springfield, Ray Charles, James Brown and The Rolling Stones. As much as I appreciate her work, taking on Lana Del Ray as a featured artist is a gracious move after living through that roster. This album exemplifies his versatility with the current music industry. He's witnessed more raw talent that we'll ever be able to download; yet he's learned to play nicely with his mates in this current state of sound.
While Please Forgive My Heart was circle jerked around the blogosphere – an official term that would probably make Sam Cooke roll over in his grave – we all held our breath hoping that Bobby would be able to pull this off and earn the respect deserves by the time the entire album dropped. Personally, I think this is extremely decent work. I don't even know if 1968 Bobby would appreciate what 2012 Bobby has produced, but the kids seem to love it. He reveals the depths of his soul on Deep River, and his spiritual/gospel side throughout Love is Gonna Lift You Up. However, the contemporary beats and intermitted uses of techno make this album youthful. For instance, Stupid has a stoic loop that runs through Womack's raspy cries and a sophisticated piano melody. It's a really beautiful blend of new and old.
There's a lot to take into consideration when attempting to put a numeric average on a man with this much life. How much will I listen to The Bravest Man In The Universe after I complete this review? Probably not that much. A few tracks will make it onto playlists, like Whatever Happened To The Times because I appreciate the slow injections of melancholy and manifestations of the past, but that's as far as it will go. I don't think you should listen to it because he deserves it. Music doesn't work that way. However, I do hope your curiosity about a man of this stature evokes a listen.
25 June, 2012 - 12:50 — Randi Dietiker