Music Reviews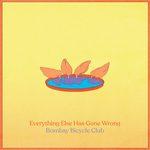 Bombay Bicycle Club Everything Else Has Gone Wrong
(Mmm...Records)
Buy it from Insound

Up to their 2016 split, Bombay Bicycle Club walked a fine line between commercial viability and artistic self-governance. The Crouch End, London-based four-piece managed to outgrow their early post-punk peers with a body of work that was less concertedly focused on irony—suggesting the kind of chipper attitude that felt built for arenas rather than clubs. But credit where it's due, given that they followed up 2009's breakthrough debut I Had the Blues But I Shook Them with an intimate album made entirely of acoustic songs instead of trying to woo the NME by writing Fluorescent Adolescent.
Meaning, the band never followed a straight path even if they always had momentum by their side. It may be that they got inspired to get back together for nostalgic purposes—best demonstrated by a recent 10th-anniversary tour—but their fifth album proves that frontman Jack Steadman and his cohorts stick to a musical terrain that suits them. Upon first listen, Everything Else Has Gone Wrong sounds adventurous—if, by adventurous, you mean adding copious amounts of studio trickery to stately-sounding indie rock. With producer/engineering wizard John Congleton by their side, the band retains a wide-eyed wonder without trying to adapt to current trends (something they achieved with mixed results in 2014's So Long, See You Tomorrow).
Led by Steadman's soothing quiver, Eat, Sleep, Wake (Nothing Like You) passed the first single test with its seamless amalgamation of gliding synths and hooky guitars—even if the move makes them sound like a more commercial Teleman. Presumably inspired by their reunion, which is the thematic linchpin to many of these songs, he can't contain his disbelief on the overtly giddy Is It Real. But for a follow-up single, it also proves that the band wanted to take a guitar-oriented approach and not disguise it. And in this case, using Electric Light Orchestra's atmospheric digressions and The Cars' robust guitar tones.
With the title track's slick motorik groove, Bombay Bicycle Club completes a trifecta of singles whose tuneful qualities do a service to their bright, energetic choruses. And that's all fine and well, but it also doesn't leave room for much else. Even when they try to apply the slightest ounce of substance, like on the anxiety-ridden Good Day, they cozy up to a cloying melody that comes close to sounding like a jingle. There's something very universal about comparing ourselves to others, as the track implies—instead, all we get is a mope session that avoids any relatability or understanding of the matter. I Worry Bout You is just as hollow in meaning, but hey, that brass section at the end sure sounds like a good aural perk-me-up.
Steadman synthesizes his feelings related to his creative aspirations, or otherwise, on the spare Racing Stripes. "This light will keep me going," he coos over a somber harmonium melody, a sentiment that comes across as ambiguous—but the way he sings those words feels heartfelt and intimate. It may be a case of "too little too late," but still, the band wasn't aiming to make an inward statement in the first place. Everything Else Has Gone Wrong is about getting through troubling times with grand gestures, projecting those emotions in the most outward way possible. And, coming back from that absence, demonstrating their steady growth as musicians with a joyful disposition that is contagious.
20 January, 2020 - 04:35 — Juan Edgardo Rodriguez