Music Reviews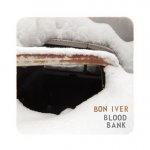 Bon Iver Blood Bank
(Jagjaguwar)

I am going to preface this review of Bon Iver's new EP with a wimpy account of what For Emma, Forever Ago meant to me. But this review would work just as well without this self-indulgent and needless preface so if you hate this type of thing, please proceed to the second paragraph now. I went to Europe for a month and a half last year and the night before I left I uploaded a bunch of new albums on my iPod; among them was For Emma. And apart from some Beatles, this was almost all I listened to while I was away. It accompanied me everywhere, on train rides to foreign places, walking through crowded streets, along empty paths and waiting at airports. The songs gently etched their way into the moments I experienced and then the memories I held. Thus Bon Iver almost stands outside of objectivity to me. Sometimes rating music doesn't seem that important; all that matters is that there was once a time when something you heard resonated with you so deeply that now when you listen to it, you have to push down a lump in your throat. That's how much I love that album. But I will try my best to be objective here.
The details behind the recording of For Emma are pretty well known now: The man behind Bon Iver, Justin Vernon, retreated to a secluded cabin in Wisconsin and penned some of the loveliest, melancholy folk songs of last year, inspiring other sad-sack musicians to take to the woods and hibernate in the hopes of re-entering the world to critical acclaim. His largely anticipated and relatively swift follow-up EP, Blood Bank, reveals a number of changes. Vernon is now accompanied by a band which allows for the diversity present in the four tracks here and the production is also better, having been recorded in a proper studio. As they did on For Emma, and perhaps even more so, the songs retain a seasonal theme in the sense that the seasons stand as a metaphor for the different passages of time in our lives and the emotions which accompany such phases. As well as mirroring life, Vernon uses each of these songs to test out a different artistic direction.
While the opening and title track tells the story of meeting someone new in the snow, the song hits you with its warmth. There are still shades of the melancholy which haunted much of For Emma in the lyrics of Blood Bank but this song takes a more optimistic look at the delicate everyday aspects of love. Lines of ambiguity ("It's that secret that we know/ That we don't know how to tell") are mixed with lines of beautiful, freefalling detail: "I'm in love with your honor/ I'm in love with your cheeks." Beach Baby follows and is the track most reminiscent of For Emma, although it's not as memorable as anything from that album. Containing two minutes of whispered, almost fleeting, falsetto and some drifting slide guitar, the song almost seems to dissolve, carried away lightly on a breeze before you realise how lovely it was.
The other two tracks on the EP are the more experimental, hinting at potential paths Vernon may take in future work. On Babys he sings, "Summer comes/ To multiply/ To multiply" and the song's instrumentation echoes these words. Beginning with a piano chord which slowly multiplies, the song builds into a swelling rhythm, gradually disintegrating into fragments of delicate melody. The final track Woods, follows a similar formula and interestingly draws a remarkable comparison to Imogen Heap's Hide and Seek. Comprising just one repeated lyric set to autotuned vocals, Woods starts as something sparse and progresses to increasingly layered and elaborate harmonies, all the while retaining a strong, meditative quality. While the song may prove a surprising talking point, ultimately this track isn't any real revelation and once you have let it sink in a couple of times, you can probably live without it.
Nothing here really rivals For Emma but this is a lovely and worthy EP. While Blood Bank retains some of the atmospheric qualities of its predecessor, it demonstrates Vernon's willingness to try new things in terms of technique and ideas. All in all the EP will serve its purpose: to tide fans over until the next full length album. In the meantime we'll just have to hope and pray that some American teen drama doesn't snatch up one of these songs to soundtrack a cliched break-up scene. Perhaps I'm a little subjective but Bon Iver's work seems too special for that.
17 January, 2009 - 18:17 — Cara Nash