Music Reviews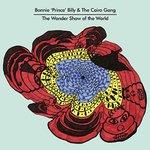 Bonnie 'Prince' Billy & The Cairo Gang The Wonder Show of the World
(Drag City)
Buy it from Insound

In the ever-mutating world of popular music, the term 'reliable' is often synonymous with 'boring'. True, it's often the case. Artists who take no risks rarely inspire awe within us, nor do they challenge us or bring the best out of their peers. There are, however, a few artists that can wear the term 'reliable' like a badge of honour. Bonnie 'Prince' Billy is one such artist. Whatever your thoughts on Will Oldham, it's hard to argue against the fact that he is consistent and, more importantly, consistently good.
Those albums wherein his quality seems to deviate are by and large albums that he has used to distance himself from the burden of his previous output – take I See A Darkness's (1999) follow up Ease Down The Road (2001), an album derided at the time for its lack of seriousness. It's now clear the album works as a foil for the oft-gloomy (but impeccable) I See A Darkness, and as such we can sense the artist attempting to avoid becoming associated with a certain mood or style. But if this was a concern then, it largely seems to have dissipated now. Since 2003's Master And Everyone, Oldham has averaged an album a year. Remarkably, these albums have ranged from good (Greatest Palace Music [2004], The Brave And The Bold [2006]) to excellent (Superwolf [2005], Lie Down In The Light [2008]).
So where does his latest, performed with The Cairo Gang, stand? Despite the more stripped down aesthetic The Cairo Gang bring to the proceedings, The Wonder Show of the World will surprise few familiar with Oldham's most recent output. There's more space this time round, and less nods to country than we've seen as of late, but Oldham's contribution is just as we'd expect. He sounds assured, wise and, for the most part, comfortable. Indeed, it's hard to say he doesn't deserve this comfort. His output has consisted of some of the most tumultuous and moving pieces of music of the past decade, and so this new sage-like demeanour is welcome.
Taken alone, The Wonder Show of the World is unlikely to find new fans for Oldham, and the album certainly doesn't take its place amongst Oldham's best work. From an artist so consistent, however, it's hard to demand such standards each and every time. There are plenty of tracks that stand out, such as Troublesome Houses and Go Folks, Go. For sheer vocal mastery, That's What Our Love Is deserves a mention, too (and for the line 'the smell of your box on my moustache', of course). For sure, as part of a whole, the album sits nicely amongst his latter output and continues to prove Oldham's wealth of creativity is yet to wane.
As our alt-country prince finds life increasingly bonnie, it's somewhat reassuring that the old qualities of music – emotion and talent – are still coveted above all else, and Oldham's continued success is a wonderful testament to that.
12 July, 2010 - 10:36 — Paul Fowler