Music Reviews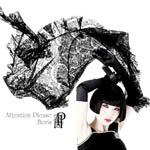 Boris Heavy Rocks/Attention Please
(Sargent House)

I guess in order to facilitate the notion that you're hard to pin down it pays to be hard to pin down. The versatility and genre hopping that Japanese metal/drone/guitar trio Boris cultivate allows them to navigate a slew of creative options, whether that be from a collaborative standpoint (BXI, Altar) or from a more back-up capacity (Merzbow). The shared release of the guitar-driven Heavy Rocks and the more minimal experiments of Attention Please only further establish the band as a veritable jack-of-all-trades by way of rock music, their disregard for confinement a big push toward… well, any creative avenue they see fit to touch their tread upon.
The unsettling result brought upon by the simultaneous release of Heavy Rocks and Attention Please is that it's difficult to consider each album individually. They don't sound meant to accompany or compliment each other, as one album proceeds to explore the band's associative sound while the other moves toward something more evocative of post-punk or new wave music during the genre's most primal and resplendently worthwhile permutations. And, while you're meant to take each album as representative of the limitless ideas Boris seem capable of bringing to fruition, comparisons are difficult to avoid.
Taking the title of a past release, (the original Heavy Rocks having come out in 2002), Heavy Rocks 2011 is a full-on guitar rock album that utilizes the glam-ish, arena level riffs and sounds the band splattered across all three volumes of their Japanese Heavy Rock Hits 7" series. They exude sexuality when necessary with Riot Sugar (aided by The Cult frontman and BXI co-conspirator, Ian Astbury) and bring in the grunge element with the pseudo-Dinosaur Jr. embellishments in Leak - Truth, yesnoyesnoyes and the softly spoken Window Shopping. From there, it's all about arena pulse and Motörhead quickness with GALAXIANS and Jackson Head. Tu, La, La points to some melodic punk categorization, though the harmonizing keeps the song from brandishing Mallternative-rebellion or Warped Tour fetish. The crushing and slow melancholy of Missing Pieces and Aileron, though, bring back the crunchy and familiar drone of Pink (2006) and Smile (2008), their love of distortion and dissonance not to be left in the wake of any attempts at creative growth.
Just about everything in Heavy Rocks points to Boris exploring their psych/drone/heavy rock sound while they maintain their cult-loyal presence as a very good, very exciting band. Attention Please, though, makes them into something more profound: an often puzzling albeit enthralling and super-malleable "fuck you" to the safety of classification. Within the first few kick drum pulsations of the title track, Boris belongs to Wata, a female presence acting the face and voice of the band for the time being. Attention Please has a patient backbeat like a Police song, the guitar soloing distant and spare. It has a dance rhythm, too, a device the band also carries into Party Boy with loud fuzzy bass tones and clean hi-hat swipes.
The persistence of indie riffs that build up Hope is unexpectedly bolstered by some bowed melodies, crafting the album one of its best moments. Hope is what every Sonic Youth/R.E.M./Guided By Voices wannabe wishes they could create, which basically calms any skepticism one might have about their decision to take themselves somewhere creatively foreign. Spoon could very well have emerged from the post-hardcore-infused grooves of Jawbox or Rites Of Spring, the instruments taut and emotive.
The clacked cycling and heavy reverb employed for See You Next Week is haunting like a Julee Cruise song, slow, ponderous and striking. You is also approached this way, Wata singing atop ethereally distant components, occasional chords or hints of percussion.
But, as with Heavy Rocks, Boris doesn't abandon their penchant for volume and crunch, the drone element conjured for the otherwise minimal Tokyo Wonder Land. A drum machine keeps the tempo awake through a mire of guitar solos and distortion.
While Heavy Rocks' guitar-fueled progressions seems obvious next those of the more subtle and abstract Attention Please, Boris' inventiveness and ambition continues to drive them further from the confines of demographics or safety of niches. But, the variance of material when compared does inadvertently generate a need to be preferential. You do ask yourself, "Which album is better?" The answer isn't so black and white, requiring one of those qualifying answers that make observations very clear before conclusions are drawn. My qualifying answer is that Heavy Rocks sounds stale next to Attention Please, but only because Boris stay within familiar boundaries, even if they do push themselves a bit.
Taken individually, though, Heavy Rocks and Attention Please are both satisfyingly heavy and captivatingly exploratory. The band gets props for taking risks, for being hard to pin down and for doing it all well.
Heavy Rocks — 7/10
Attention Please — 9/10
27 May, 2011 - 04:35 — Sean Caldwell