Music Reviews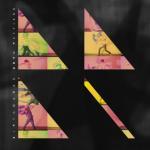 Born Ruffians Birthmarks
(Yep Roc / Paper Bag)
Buy it from Insound

How refreshing to see Born Ruffians return to form after the lackluster Say It (2010). While less enticingly gritty than their 2007 debut, Red, Yellow & Blue, their newest release doesn't suffer from its higher production value. The glossier sheen is more marketable, more immediately palatable. My own predilections for lo-fi aside, this polished iteration offers more musical layers to wade through, a mish-mash of of styles with a cogent through-line -- Mitch DeRosier's fantastic and creative bass lines. But I'll get to that later.
Birthmarks' charm lies in its comforting familiarity. Listening to the album is a smile-inducing scavenger hunt of influences. Vocally, the harmonies of opening track Needle are reminiscent of Fleet Foxes, while Luke LaLonde on his own may give off more of a Strokes feeling, or perhaps Clap Your Hands Say Yeah. Maybe the overall vibe is a little Devendra Banhart and Paul Simon (try With Her Shadow on for size) mixed in with the less obnoxious parts of Vampire Weekend (sorry guys, I may be the only one who isn't a fan). LaLonde himself reminds us that proudly showcasing influences doesn't have to be derivative: "I belong to no one/A song without an album/Long forgotten maxim/spoken to the sea." No, he's probably not talking about his music, but it's a nice coincidence.
Lyrically and musically, this album is such a testament to the anxiety of young adulthood. Breaking it down, Permanent Hesitation is a clear stand out. What a perfect anthem for the uncertainty of young love in this post-romantic world, where twenty-somethings so often feel like middle schoolers, crushing hard without an attention span. How often have we ourselves wondered, "Is it cheating if I call you sweetheart?/Is it cheating if you call me your man?/I'm receiving wayward glances from your wandering eye/and pretending not to know you're there." The chipper, intoxicating jangle seals the deal. A song about modern non-romance should sound happy. It's exactly that permanent hesitation that makes our constant emotional flitting around so sexy and exciting.
It's funny and somehow so appropriate that an album full of heartbreak and lust and uncertainty is set to such catchy, uplifting melodies. As my own twenties come to a close, I feel like I can look back on them through the lens of Birthmarks (where even the name implies just the right sort of inherent inextricability). This was my life, these are the words that represent it, but it wasn't a melancholy time, and the lyrics don't deserve a maudlin backdrop. Here comes Cold Pop with its awkward erection ("Now you're shaking slow/Lipstick and eye shadow/As I go below..."), reminding us of the awkwardness of casual sex and how hard it is to keep feelings out of it. Rage Flows is another one I keep coming back to. An electrifying bass riff reels in its prey, pulling it in to an cacophonous climax: "You're never gonna live one second of life/Until you let your rage flow/Swap it for the paranoia." Another set of sad and angry overlapping an infectious dance beat. What could be more emblematic of youth?
And taking us through the labyrinth of emotions and influences and anxiety is the foundationally strong bass line; we follow it like an unraveling yarn from the soft opening harmonies, pulsing through the hard rock chorus on 6-5000, picking up the pop on the toe-tapping Ocean's Deep. A comforting constant, it never lets us stray too far into our own histories. Born Ruffians have their own stories to share, so reminiscent of our own but still uniquely theirs. It has to be purposeful that the bass fades away on the last and most ethereal track, Never Age. Maybe it's a bit heavy-handed, but it rounds out the message so well: "Stay with me, never age." Hold on to the weirdness of youth. Remember how good it felt, even when it didn't. It's what made you who you are.
21 April, 2013 - 04:02 — Gabbie Nirenburg