Music Reviews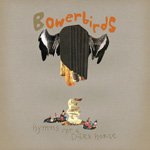 Bowerbirds Hymns For A Dark Horse
(Dead Oceans)
Buy it from Insound

You may have heard this one before.
Although its initial release last summer through Burly Time Records was relatively low key, the debut album from nu-folk types Bowerbirds garnered all sorts of praise from people in the know. The Mountain Goats' John Darnielle called the 'Birds "my favourite new band in forever" and Pitchfork bestowed a prestigious 8.4 rating on the record, whatever that means. Perhaps you downloaded it? Maybe you even paid for it. Who knows; the crucial point is it's back, and it sounds even better in 2008.

The band's rather awesome new label Dead Oceans obviously feels that the record deserved a bigger audience than the Burly Time release afforded it, which is why I'm sat here reviewing this slightly expanded re-issue in summer 2008. This release is great news for all involved, though: I never received a promo from Burly Time so I finally get a hard copy; the band will be happy because they can win over a few more fans and earn a few more dollars; thanks to the unreleased bonus tracks, there's even something for the more hardcore fan to get excited about.
So how do I sell Bowerbirds to the uninitiated? Well, it's pretty straightforward – all I have to do is persuade you to listen to one or two songs and the band will take care of the rest. And let's be honest – John Darnielle's recommendation probably had you heading over to MySpace already. But while we're here: Bowerbirds is new and folk, without all the baggage that often accompanies those words. This isn't a self-important jam band we're talking about and there's nothing approaching psychedelia on the record. There are no obscure covers of lost folk legends and there's only one beard in the band. And even that's neatly trimmed.
Crucially, Hymns For A Dark Horse is the sound of three American folk musicians playing the music that comes natural to them and having a great time in the process. Like current tour buddies Bon Iver, Bowerbirds specialise in timeless, honest and earthy folk music. This is no calculated tribute to the British folk scenes of the 60s and 70s; this is the real deal. Savour it.
27 August, 2008 - 20:58 — David Coleman