Music Reviews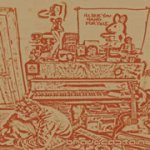 Brave Captain Advertisements For Myself
(Wichita)

"Wake up it's a beautiful..." Aaaarrrrgggghhhh!!! If there was a song that epitomised the public's voracious appetite for any kind of clichéd sloganeering, (no matter what the originally intended message) then it was Wake Up Boo by The Boo Radleys. The whole Radio 1 Breakfast Show/Zoe Ball chirpiness made a mockery of the song and signalled the gradual downfall of a good pop band, with increasingly interesting ideas. They were a band that thrived on invention, whilst incorporating damn catchy pop songs and as Brave Captain; Martin Carr has continued this principle and morphed into a pretty captivating solo artist.
Advertisements For Myself is the sound of a man who has nothing to prove and everything (literally) at his fingertips, the sound of a scientist immersed in his life's work. As with most of the artists on the excellent Wichita label, there is a creative freedom present here and it allows the individual/band to let loose with whatever idea is burning in their brains. Carr's influences are obvious, but not in a plagiaristic way; with a smattering of Aphex Twin here and a huge dollop of S.F.A. there, the sound is incorporative rather than overtly reverential. There are occasions when a sweet folk number will jar slightly with the bleep-influenced interludes, but generally the mix and balance is perfectly orchestrated.
The title sums up the attitude and mirrors the music, painting a mental picture of a musician in love with the art of making music.
19 October, 2002 - 23:00 — Mark Mason