Music Reviews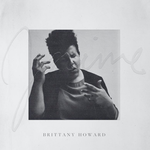 Brittany Howard Jaime
(Columbia Records)

Alabama Shakes was a band that couldn't be stopped. After just two albums, the band had grabbed four Grammys and become popular with mainstream audiences, but also, after the release of Sound & Color especially, enjoyed critical acclaim. It all seemed too easy, which meant that it was no longer that interesting for the inimitable frontwoman Brittany Howard. As the band was touted to return in 2018, Howard instead brought the band together to say that the break was going to be longer than scheduled. With the pressure of their return off, she decamped to a Californian greenhouse to start writing on her own.
What started off as a leap of faith, then an attempt at a memoir, ended up as her best album to date. The memoir was originally "for fun", but the process gave Howard enough material to start working, and ended up taking the musician to places she hadn't really covered with her day job -- sexuality, religion, nights of boozy excess. The final result is Jaime, which occasionally sounds just like an Alabama Shakes record, but often like something else completely.
Named after her late sister but not necessarily about her, Howard starts off with doing what she knows best. Stay High is the quaint, hazy country that Shakes fans will adore, while History Repeats is just a great knotty, funky banger. Anyone who's heard Hold On will know what's coming in He Loves Me, but that doesn't make it any less of a rush this time, either.
Then there are the moments where Howard starts going off in different directions, leaning on different influences but never jarring. 13th Century Metal is a glitchy experiment with a new keyboard and a poem layered over, while Tomorrow is an incredibly stylish slow build across three acts, beginning as an anxious thought about the future that ends with a thumping call-and-response to living in the moment. There's also the intriguing change of perspective whenever she writes through the eyes of her younger self. Georgia, about a crush on a girl at school, is hushed and hopeful, before descending into a more confused question: "Is it unnatural?" But the album's talking point is Goat Head, a song about growing up biracial that is almost spoken word over flutters of piano and a skittering beat. It's written with an innocence that illustrates the racism her parents face seem both confusing and bleakly natural.
In a way, Howard's approach—leaning on what she knows best before then exploring—isn't different from the way most solo debuts go. What's notable here is that everything that should be a risk is pulled off without missing a step. The process of writing this album was personal and intimate, but the end result is a confident, bold debut. Whether this record means that Howard will be ready to go out on her own permanently, or ready to return to Alabama Shakes, is unclear—maybe it'll just be something else new. She might even get around to that memoir, but you get the sense the best could still be to come. [Believe the Hype]
7 October, 2019 - 04:18 — Matthew Smith