Music Reviews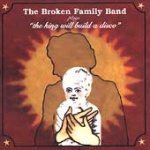 Broken Family Band The King Will Build A Disco
(Snowstorm)
Buy it from Insound

Now, I'm the first to knock a lot of country music. At any time, I'll be the first to bring out the old "How many country and western singers does it take to change a light bulb?" gag.
But my hatred is generally aimed at the Garth Brooks of this world. Proper country music is full of despair, desperation and depression. Right up my street, then. The Broken Family Band probably fall into what hip media types call alt-country. Easy to see why, when comparisons to the Pixies and the Violent Femmes alongside the more atypical Hank Williams have been bandied round before the release of this here debut mini-album.
For your money, you get seven tracks, of which the highlight is the wonderful When We're Dry - a song about a couple dreading the time they run out of alcohol and get sober. And lyrics don't get more self-loathing than on Twisted when the protagonist asks "Would you love me more if I was pretty?"
This isn't country music as in all slide guitar, violins and songs about your horse dying. No. But it is the perfect music to listen to while pouring Jack Daniel's on your Corn Flakes first thing in the morning.
22 November, 2002 - 00:00 — Peter Mattinson