Music Reviews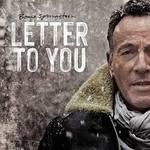 Bruce Springsteen Letter To You
(Columbia/Sony Music)

When reading the first hundred pages of Bruce Springsteen's autobiography, the reader is hit with a huge revelation: the myth of Springsteen is more interesting than the man's actual life. Detailed with entertaining but slight stories, the beginning of Born to Run (the book) makes you realize that it's way more gripping to listen to Springsteen sing about working for the man every day than it is reading how he was an awkward, Catholic kid revolutionized by rock and roll. Despite this, Springsteen has been trafficking in nostalgia a lot recently, from his book to his Broadway show. Looking back is a central feature of Springsteen's very good twentieth studio album, Letter to You. The moral of the story is to never doubt The Boss, I guess.
Springsteen's recent preoccupation with his youth rings through the album's second single, Ghosts, a joyous six-minute rocker. With groan-worthy lines about rock and roll "comin' from the mystic far," it really shouldn't work. It's too close to the recent full E-Street albums like Wrecking Ball or Working on a Dream, as Springsteen is as corny as ever in his prose ("I shoulder your Les Paul and finger the fretboard, I make my vows to those who've come before"), and the production isn't too different from those aforementioned mediocre albums. But Ghosts does something indescribable. That exploding chorus of "...and I'm alive!" is sung and performed in a simply magical way. By the time you get to the overlong outro, the singalong carries this song to the bank. On paper, it's classic late-period bad Springsteen, but in actuality, it's the best rock song he's released in years.
That vigorous spirit is carried consistently across Letter to You, from the driving love of Burnin' Train to the laughably titled House of a Thousand Guitars. The former, with Max Weinberg's thumping drumwork and Bruce's self-harmonizations, quickly becomes one of the most spirited songs that Springsteen's released in ages. The spectacle of The Wild, the Innocent & the E Street Shuffle-era is apparently on Thousand Guitars, but Springsteen's flair for melodrama appears on a handful of songs here that were originally demod in the early 1970s: on the laidback Janey Needs a Shooter, he deals with characters in a way that he hasn't in decades. Charles Giordano's aching organ makes this tale of doctors, priests, and others a stunning showstopper. It's a strong improvement upon Janey's original '72 demo, where Bruce pulls out an agonizing Bob Dylan impression. Imagery about clergy members appears again naturally on If I Was The Priest, another song clearly from Springsteen's vault, but it's one that fits in with the contemplative themes of Springsteen's newer lyrics.
While this is one of Springsteen's most genuinely energetic and exciting releases in ages, it isn't constantly uptempo. Opener One Minute You're Here seems like it could have come from last year's Western Stars, a collection of acoustic, vaguely country-flavored tracks. While One Minute's muted guitars and cinematic strings are bland, Springsteen's aching call of "Baby, baby, baby, I'm so alone" shows the sadness and contemplative nature of the entire project. In fact, One Minute You're Here is an ideal opener for the album, because despite the quiet feel, it introduces its themes of nostalgia for a better time and the looming threat of morality in a beautiful fashion.
That cheesy, lovely Springsteen optimism pervades the album's closer, I'll See You in Dreams. Organs mutter, acoustic guitars chug away, piano touches give the song a hint of 2010s Bruce professionalism, but once the drums come crashing in, there's nothing stopping this frankly beaming tune. Following the first chorus, a chunky guitar solo comes in, giving the song almost more texture and genuineness than it deserves. "For death is not the end," sings Springsteen, and while that anxiety of growing old shines true here (and throughout the album), he sounds like he knows his story will expand long beyond when he passes away. With his trusted E-Street Band by his side, Springsteen sounds confident that he's laid the myth to rest; and that his legacy will be one of who Springsteen was, not what he wrote about.
28 October, 2020 - 16:00 — Ethan Gordon