Music Reviews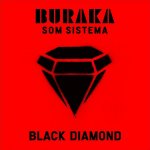 Buraka Som Sistema Black Diamond
(Enchufada / Sony BMG)
Buy it from Insound

Buraka Som Sistema appeared out of nowhere two years ago with the EP From Buraka to the World bringing Progressive Kuduro to the underground dance scene in Portugal. Since, they've become a virus, an international phenomenon with a new album Black Diamond out this summer '08. Buraka Som Sistema takes us on a ride through an ethnic myriad of music, from Africa to Brasil to London to Buraca, Amadora, a suburb of Lisbon.

Kuduro has its roots in Angola, and is more specifically a style of dance which evolved into a musical genre. Buraka Som Sistema, from the three electronic producers Lil'John, Riot and Condutor, is best characterized by imagining a techno beat performed by deep african drums and percussion, permeated with electronic glitches and powerful basslines.

Tracks like Kalemba (Wengue Wengue) top the charts, but others give light on how the style arose from traditional African dance. The strength of the drums in New Africas Pt. 2 are enough to make anyone break into spontaneous dance, such is their energetic density. Buraka Som Sistema has achieved new heights with Kuduro, fusing it with Brasilian Baile-Funk (Aqui para Vocês), London Grime (Black Diamond), and various other styles of electronica, all while maintaining a very earthly and authentic sound. The fusion aspect is most interesting, for it appeals to a wider audience and makes the experience more accessible.

Published by Enchufada and Sony BMG, Black Diamond has contributions from M.I.A., DJ Znobia, Saborosa, Puto Prata, Deize Tigrona, Pongo Love and Bruno M, adding to the mix of talented artists and messages delivered.

Ultimately, Kuduro is dance music. Home-listening is fine, but the real experience is live, with hundreds beating their feet in time and MC's chanting the party to even greater insanity. The album makes the blood boil and gives a good idea of what to expect at such an event. It's definitely worth a listen, if only to expand musical horizons and get a taste of other cultures.
7 October, 2008 - 19:30 — Miguel Morelli