Music Reviews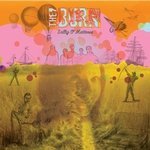 Burn Sally O'Mattress
(Hut)
Buy it from Insound

It comes as no surprise that Noel Gallagher got the 'Burn to support Oasis before they'd even released a record. What comes as more of a shock is that Gallagher hadn't sued the band for copyright infringement long before this album made it into post-production. Or maybe he has a stake in their stock?
For those in doubt, compare Steel Kneel to Be Here Now's Fade In-Out. The parallels are somewhat shocking in their obviousness. While a generation of young bands once took the 1994 Oasis as a model for their own tunes (sneering confidence, a definable sense of swagger throughout), the 'Burn are from the next generation. At times Sally O'Mattress sounds like the better moments of the last two Oasis efforts, and there's a compliment hidden in their somewhere.
There are other points to touch on: Several tracks such as Calling All and Drunken Fool sound like they've been punted around the Levellers ballpark, only without the social comment. Ultimately, most the songs here strive for credible-retro quality to push them straight into the fanbase left occupied now Ocean Colour Scene have quietly dropped into the background.
They do try though. They haven't deliberately gone out to make a somewhat dull album. But seemingly not listening to any music made since 1994 does that to people. There are moments to be found: Fight The Fire is more then credible while Enlightening tries so very hard to be poignant and moving that you feel sorry when it comes over as somewhat crass.
It'll no doubt sell by the thousands, and I've no problem with that. They haven't been ridiculously hailed as the saviours of rock by some desperate hack looking for create a hype and they don't pretend to be anything they're not. My best recommended action is that you buy it now and keep it put by for Fathers Day.
2 May, 2003 - 23:00 — Peter Mattinson