Music Reviews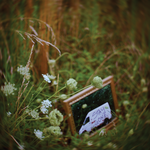 Calyx Stay Gone
(Plastic Miracles)

Most fledgling bands these days aren't putting out music for their shot at fame and fortune. But as long as the desire to create exists, bands like Pittsburgh's Calyx will find a way to get their message out. Whether it's lying on a blood plasma questionnaire to pay a few bills and book some studio time (Money Blood) or enduring the indignities of mediocre performance reviews (Krill Grill), this Rust Belt power trio grinds it out to present their full-length debut.
Led by vocalist/guitarist Caitlin Bender, the group echoes early Hüsker Dü in form and substance—especially in Garrett Cassidy's frenetic drumming. While Hüsker's breakneck pace was fueled by buckets full of amphetamines, Calyx seem powered by a more positively-geared and youthful exuberance. Cassidy and bassist Jon Ahn routinely shout along in the choruses and trade a few lead lines here and there. Neither challenge Bender for her vocal crown, while the group's lyrics also set them apart from hardcore's earlier days. Brisk album highlight Starve The Romantyx is downright Walt Whitman-esque in places: "I devour crumbs like feasts, I collect dust like diamonds."
The trio gels best on blistering tracks like Romantyx, while on the preceding Pacific Light Wave, the band is brief and punchy but not without a tuneful core. And in spots, Bender gets introspective (Brittle Honey), or documents a local denizen without an air of artifice on Leslie Plain And Strong: "keeps her food separated on her plate." But to punctuate their punkish roots, the album ends on a 90-second blast of sustained feedback; the type where the amp is cranked and the guitar is leaned against it as the band departs the stage. An old trick, but one invariably someone in the audience may be witnessing for the first time. It's an album ending Hail Mary that aims for a return to see hungry bands giving it their all on stage.
12 February, 2021 - 06:20 — Mark Moody