Music Reviews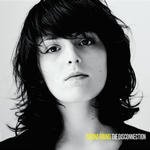 Carina Round The Disconnection
(Dehisce)
Buy it from Insound

In a year that has abounded with chanteuses, when Karen O, Brody Dalle, PJ Harvey, and their lightweight sisters like Amy Studt, Liz Phair, and hey, even that scruff from Fame Academy, have all had their moments as, excuse the expression, cocks of the roost, there is one gutsy singer-songwriter who has rather slipped under the radar.
Carina Round hails from Low Hill in Wolverhampton, which sounds crap even if it isn't, and was clearly born to be a musician. She was given a turntable for her fifth birthday and grew up on Nina Simone and Bob Dylan, and her first album, The First Blood Mystery, was released to no little critical praise when she was just 22. Her music takes in Dylan, Patti Smith, Joni Mitchell, and a fair swathe of crashing rock, and she's gigged with Coldplay, Ryan Adams, David Gray, and, I'm told but don't entirely believe, Godfather of Soul James Brown. Her songs are about passion, regret, melancholy and memory, and if you aren't drawn into the emotional webs and shapes of her music, then you have a heart of purest stone. She is also, I am told, beautiful, but quite frankly she could look like Stuart Cable and I would still step on glass to see her live on the evidence of this album.
What is most impressive about The Disconnection is the breadth of what is attempted. While the main focus is the kind of vocal dynamism and sheer power you would expect, Ms Round has a vocal range and musical vision far beyond the average gravel-voiced songstress. On Shoot she is a howling banshee, before Into My Blood shows what PJ Harvey could do with a couple of extra octaves. Lacuna showcases her clever and edgy lyrics before sashaying and swaying like something sexy from Cabaret. Paris is intelligent and melancholic, while Monument would find a happy home on any Patti Smith album. Motel 74 offers a genuine standout moment, dealing with love that's like drinking the dregs of wine, when the bitterness is compelling for the sweetness it recalls. Overcome is a quieter moment that nevertheless displays the jazzy, Keith Jarrett-influenced backing - it is an album that does not scrimp on production, even on the minimal piano lament opening of Sit Tight, which soon becomes a fine rock stomp. Closer Elegy could be about sex or death, or both, but it's a passionate and fitting end to a committed and outstanding record.
The Disconnection is a perfect display of a rare talent, a singer, lyricist and musician possessed of compelling skills. Few albums of its kind will match it this year or next.
10 January, 2004 - 00:00 — Ben Bollig