Music Reviews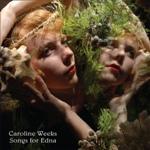 Caroline Weeks Songs for Edna
(Manimal Vinyl Records)
Buy it from Insound

Once upon a time, at least according to NPR, Caroline Weeks picked up a book of Edna St. Vincent Millay's poetry and was struck by its magnificence and beauty. She then decided to learn how to play arpeggios over and over again on the guitar and put Millay's words into song.
It's an ambitious concept, especially for a debut album, and for that Weeks deserves at least some respect. The project as a whole, however, is weighed down and rendered hopelessly dull by its lyrical scope and vision (which isn't hers anyway). Most of the songs don't really convey any meaning behind the poems or add any depth to them; they just sound like thin retellings of the same story. She supposedly kept the instrumentation to a minimum to let the listener focus on the lyrics, but the lack of anything other than repeated arpeggios makes for an arduous thirty three minutes. Every song on Songs for Edna would be perfectly comfortable as background music or even for a performance at a coffee house poetry reading, it may even be well accepted there, but as a recording and an album it soon becomes tedious.
Weeks is clearly a good musician - she's worked with Bats for Lashes and does write her own songs on occasion. Her voice is strong; if Beth Gibbons and Joanna Newsom could make a baby (or form like Voltron, I'm not picky about the method of combination) it would sound like Caroline Weeks. Wild Swans has a nice vocal melody and is a good showcase for her talent; I just wish she'd exhibited more of it throughout the record. She double tracks her vocals on The Return, which adds some depth to the different sections of the song. While most of the album leaves me cold, Elegy does make me feel, oddly, like I'm eating a large hunk of chicken without silverware in the company of the King. I'm not sure if it's the intended effect, but I guess medieval stuff is cool. At least it gives the listener something to feel, unlike the rest of the album.
While I'm sure a medieval feast would be endlessly exciting, Songs for Edna is not. The lyrics don't carry much of a punch despite their hallowed origins and the musical arrangements are thin, weak and repetitive. Weeks is undeniably a talented artist; this just isn't the right outlet for her.
3 August, 2009 - 09:56 — Andrew Baer