Music Reviews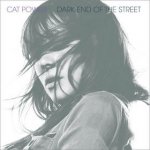 Cat Power Dark End of the Street
(Matador)

Released on vinyl and for download, Dark End of the Street comprises six tracks which did not make it on to Jukebox, an album of covers released by Chan Marshall earlier this year, which was largely inspired by the success of 2000's The Covers Record. Much has occurred in Marshall's life between the release of those two records, both personally and artistically speaking. She checked herself into rehab finding sobriety, shook off the stage fright which had resulted in a reputation for erratic live shows and recorded an album with Al Green's band, which went some way to re-positioning her as a credible soul singer.
However, as is often the paradox with artists, perhaps it was Marshall's inner turmoil which made her reworkings on The Covers Record so remarkably resonant. The artists she selected were surprising, among them Moby Grape and Smog, and all her takes revealed something new about the original and, in doing so, revealed an insight into Marshall herself. Her version of the Rolling Stone's Satisfaction, in which she removed one of the most famous choruses in popular music, recast the song into one of sedated desolation and quiet desperation. Her take on The Velvet Underground's I Found a Reason, transformed a tongue-in-cheek love song to something transcendent and utterly heartbreaking. And that's where Marshall's strength as an interpreter lay - she has the ability to strip the schmaltz and pop sheen from the song and leave only the bare-boned, aching emotion.
In contrast to The Covers Record, the mistake Marshall made with the underwhelming Jukebox was that she failed to reveal any new facets about herself, either personally or as a performer, with the exception of Song to Bobby. While a little stronger, Dark End of The Street unfortunately follows in the footsteps of its companion album, with Marshall demonstrating little variation in her approach to the covers.
The EP opens with the title track and best cover on the album, a take on James Carr's Dark End of the Street. Marshall's smoke-ridden voice fuses soul and blues to transform this tale of adultery into a song about heartbreak, longing and love. Her husky vocals wrap themselves around lines of atonement such as those in the opening verse, "hiding in shadows where we don't belong/ living in darkness to write our wrong." A melancholy haze hovers above every word Marshall sings in the opening track and lingers throughout the rest of the album.
The following song, a cover of CCR's Fortunate Son is perhaps interesting at best. Substituing the high energy of the original for a slow bluesy swagger, Marshall swoons over the violin and piano, "It aint's meeee" in a shaky drawl. There is no doubt that the lyric penned by Fogerty is just as relevant today but while attempting to take another angle, this cover fails to deliver anything authentic. While Marshall may believe that her slow-swing approach invests the song with introspection and meaning, it merely appears that she has ran out of other arrangements to try.
While Marshall does deserve credit for taking on the greats (Franklin and Redding), she again falls short. In particular her version of Redding's I've Been Loving You Too Long (To Stop Now), while enjoyable, seems to constitute a more casual, rambling angst, never reaching that crucial note of absolute desperation and despair which Redding infuses into the song with absolute conviction.
The other two non-soul tracks from the album, the Pogues' Ye Old Triangle and Fairport Convention's folk classic Who Knows Where the Time Goes are both rather nice but dare one say it, slightly bland. As an EP of offcuts, Dark End of the Street seems more concerned with documenting Marshall's transformation to that of bonafide blues and soul singer than revealing any new insight into the artist herself. And while such a transition is enjoyable for listeners, one gets the feeling that from an artist such as Marshall, more is to be expected from her records than mere enjoyment.
28 December, 2008 - 17:40 — Cara Nash