Music Reviews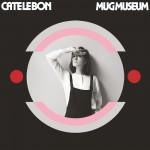 Cate Le Bon Mug Museum
(Turnstile / The Elite Meat Supply)
Buy it from Insound

This is Cate Le Bon's third album. She is a Welsh songstress who makes likeable if not life changing music. The wonderfully titled Mug Museum conjures all kinds of images. There is sweetness here for the biggest pop fans; there are some acute and chirpy guitar lines, which weave their way through the songs; and there is Cate's down to earth voice gently singing over the top, a little like a night serenade to get the children to sleep. The lead guitar lines sound like they are made on toys and it's all satisfying if never more.
There are moments where the songs descend into repetition to the point of almost causing motion sickness, but for each such moment there is another to grip the listener and cause a wry smile.
After the overly saccharine opener I Can't Help You, Cate's slower song Are You With Me Now? opens up the space to appreciate her words and her voice, which seems to reach out, gently grab the listener by the shoulders and looking them in the eye, ask 'are you with me now?' It's one of the moments of genuine warmth on the album, and awakens the interest in a way the first track did not. Cate's slower songs definitely work a magic that the more upbeat ones do not. No God is sleepy, almost evoking the sensation of being hypnotised, and the message is powerful in its laziness. By the time I Think I Knew arrives it is clear it is perfect music for any season, to befriend its listener and hold their hand wherever they may go, an immediate and consistent friend.
The darker sections of the album offer a look at Cate's range, as she certainly doesn't only hold a candle up in the darkness, but also she turns away and shields the light the candle offers forth. It's a valuable part of her identity and good to know the same befriended person who holds your hand can also show her teeth if need be.
Sometimes folkie, sometimes pop, it is a lovely album that won't make Cate massive but will certainly delight her existing fans. It's a pleasant listen with some great moments herein. If her best is ahead it is certainly a curious prospect.
12 November, 2013 - 12:14 — Dominic James Stevenson