Music Reviews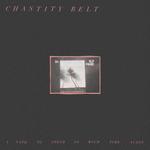 Chastity Belt I Used to Spend So Much Time Alone
(Sub Pop)
Buy it from Insound

It's never a comforting experience when musicians instill an overall feeling of abjection. Even if it constitutes the truest of emotions, it's as if we expect the artist to show face with a false sense of liveliness. That's certainly never been the case with Chastity Belt, given that their previous two releases, Time to Go Home and No Regerts, touched on hard and honest truths with a poignant balance of indifference and defiant awareness.
So to hear that the Seattle foursome are taking a more sobering view of themselves on their latest, I Used to Spend So Much Time Alone, implies they're somehow out of character. Which, to an extent, is more or less true: the youthful tomfoolery of No Regerts was quickly shed on Time to Go Home, but with a stern political edge, and there were already signs of them exploring the drudgery of everyday ennui on tracks like On the Floor and Why Try.
Aptly, lead singer Julia Shapiro once posed with her gravelled tone, "Is it cool not to care?." Shapiro has always been one to reaffirm herself with cold, expressionless thoughts that only reveal what's on the surface rather than choosing to go deeper. On Different Time, she's beginning to accept that things could begin to make sense if you make an effort to better understand who you are. It's by far the most optimistic we've ever seen Chastity Belt, and there's even a noticeable buoyancy in how their shimmering guitars and tight rhythm section coalesce against each other.
But I Used To… quickly sours its latent pop tendencies as it progresses: the meatier jangle pulse of This Time of Night remains faithful to the glory days of alternative rock, as Shapiro dwells in prickling uncertainty while the bands plays against subtle shades of melodic dissonance. It's also one of the strongest songs they've ever written. Shapiro later lets that anxiety stew and fester on Stuck and Complain, a pair of tracks where she disarmingly deliberates over some harder-edged dream pop. It becomes more and more apparent that they've let go of their more ringing compositions in favor of a more disciplined form of gravitas.
The murky tone of I Used to… does tend to drag as it leads into its decidedly more plaintive second half, which mostly churns out a hazy drift that slips too comfortably into Brit pop territory; regrettably, it recalls some of the genre's less memorable players. Sans for the acoustic-led What the Hell, which connects with a steady and beautiful simplicity, the low-key, languorous ambience of Something Else and Used to Spend wallow in a characterless mid-tempo beat; they come and go without much meaning or effect.
On I Used To…, Chastity Belt lose some of their past work's more tunefully intricate contours in favor of a more streamlined approach that weakens their innate potency. Though Shapiro bares herself with affecting honesty, it appears as if the band hasn't found a way to translate her more melancholy bearing without resorting to pleasant-sounding tedium. They're growing up, and that's understandable, but the need to abruptly change doesn't always equate to songwriting maturity.
31 May, 2017 - 22:49 — Juan Edgardo Rodriguez