Music Reviews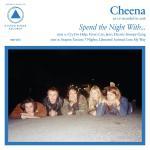 Cheena Spend the Night With...
(Sacred Bones)

Cheena
features members of
Pharmakon
, Crazy Spirit, and Hank Wood & The Hammerheads, and though their membership could qualify them as some kind of underground "
supergroup
", attaching that kind of label to the project would only serve to cheapen its intent in the first place. The Brooklyn five-piece (Walker
Behl
, Margaret
Chardiet
, Keegan
Dakkar
, Logan Montana, and Eugene Terry) came together two years ago over a shared love for '77 punk, glam and West Coast country punk, and, fittingly, their music is a sloppy and stoned celebration of New York's fertile 70's scene, which produced some incredibly forward thinking and provocative music whose influence still rings loudly even today.
Two years after releasing their self-titled debut EP,
Cheena
have returned with their first long-player,
Spend The Night With...
, and it sees them picking up where
Cheena
left off, channeling the raw aggressive energy of their individual projects through
shambolic
, high energy rock 'n' roll that touches on the crude irreverence of the Dictators, the
druggy
snottiness of the Dead Boys, and the trashy glam of the New York Dolls.
The sound is lean and primal and the music feels at times as is if could topple at any moment as Walker
Behl's
slurs his way through the songs in a
Stiv
Bators-styled
delivery. Songs like
Car
and
Stupor
embrace the trashy, smeared-lipstick decadence of glam, while
Cry For Help
and
Fever
offer up some of the most frenzied tempos here. On
Jane
and
Tarzan
, Logan Montana's slide guitar pulls the music into the swampy punk-blues of the Gun Club, and
Electric Snoopy Gang
strays into twangy
Exile
-era Stones territory.
Spend The Night With...
offers some impressive diversity without sounding tossed off or smashed together, and for all of the sloppiness it's a surprisingly cohesive album. Though they may be working with a well-worn and familiar sound, what
Cheena
accomplish with it--making rock music a whole lot of fun and even a little dangerous again--negates any arguments of originality, especially in an era where pretty much everything is a reboot anyhow.
27 July, 2016 - 04:48 — Jeremy Monroe