Music Reviews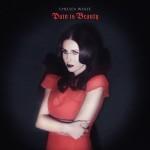 Chelsea Wolfe Pain is Beauty
(Sargent House)
Buy it from Insound

Pain is Beauty. That is the message delivered on Chelsea Wolfe's fourth album. And while the artist is known for infusing elements of drone metal in her work, this release caters to the macabre. Instead of the hard-nosed drive of distorted guitars, she opts for something more electronic and goth-rock driven, with hefty amounts of folk to create a very intimate, emotive LP.
A dark keyboard opens up the first track, Feral Drone, and before long, Chelsea Wolfe's haunting vocals wash over. The soundscape builds, mixing everything together in a trance-like state. Her vocals are gritty but clean; each word pronounced and steadfast. Chelsea Wolfe dives right into the core sound of the album right from the get-go, as the ominous synths drive onward. There's We Hit a Wall, which sounds like Closer era Joy Division with its dark, foreboding feel. The Warden is a haunting, waspy track - full of electronic beats that feel uplifting while clinging to raw emotion, the track moves along at a nice clip, modulating sounds and structure that drips with honesty.
Destruction Makes the World Burn Brighter breathes life into the album, getting away, musically, from the darkened, depressive element. Chelsea Wolfe takes shoegaze to a much brighter level, her voice wafting over the track with enthrallment. The drums tap out a enthusiastic cadence and the guitars hit somber notes, yet Chelsea Wolfe retains a lot of ingenuity and sprightliness. Kings show some of her metal influence, with weaving guitar riffs that sound like something Alice Cooper would do. With her airy, light voice, the music surrounding her is dark and restless. Kings contains a darkened vibe; the organ and guitar driven track settles into a groove that can best be described as evocative with its nods to gothic rock.
The Waves Have Come is a track in a constant state of everlasting crescendo. It moves upward and upward, with haunting pianos and violins helping to sell the post-rock ambience. Chelsea Wolfe and the band behind her create something wonderfully majestic; monumental in size. Her whispery vocals coupled with the intense one-two giddyup drumming and dynamic scope makes for a track with unheralded poise. It's raw and real; a common theme spread across the LP. At nearly nine minutes in length, it's easy to pick The Waves Have Come as the brightest point of the album, with all its building sounds and intricacies.
While the album lacks some cohesiveness, as she spreads a myriad of influences all over the album, it doesn't affect the quality of music. Downright electrifying and beautifully eerie, Pain is Beauty is an album that unearths weighty emotional levels. Chelsea Wolfe captured the essence of the album title eloquently, succeeding in making an album that is frighteningly honest, poignant, and graceful. A top-notch effort.
6 September, 2013 - 04:39 — Bill Haff