Music Reviews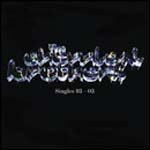 Chemical Brothers Singles 93-03
(Virgin)
Buy it from Insound

What I know about dance music you can recount in four seconds, but given that the Chemical Brothers have always been the radio-friendly face of dance I know that they've made a very good career out of it.
And like all successful acts, there comes a point where the label fancies making a quick buck by throwing a cobbled together compilation into the market place. Given that it's been 10 years since Song To The Siren was released, here it is - a handy guide to the nation's favourite proponents of 'Big Beat' (apparently). Obviously, this being titled Singles, all the hits are hear to lure in those of us who never got beyond the club/radio stage. So yes - we get Noel Gallagher on Let Forever Be and the Tomorrow Never Knows clone Setting Sun, both considerably more interesting then his own personal output, as well as Barney Sumner adding a little humour to the whole shebang with the classic lyric: "It could be that I'm losing my touch/or maybe you think my moustache is too much?"
Elsewhere it's pretty much nice, safe music. Often too commercial to appeal to hardcore dance fans and without the guitars that would get the average indie kid interested, this is a compilation bound for the record collection of many a 30-something looking to relieve their glory days of 10 years ago. It must be said, however, that The Private Psychedelic Reel is nine minutes of glorious experimentation with sounds like the Teardrop Explodes remixed by Simmons/Rowlands and shows their production skills at the fullest.
Indeed, it's as production team that the Brothers may go down judging by the final (and obligatory new) track The Golden Path. Featuring the Flaming Lips, it has Wayne Coyne sounding like Ian McCulloch circa Ocean Rain and is the least Chemical Brothers-type song here. Indeed, it sounds like it would be more in place on the last Flaming Lips album. It's also rather good, coming from someone who's never been a huge Lips fan.
So, an album that rounds up a career fairly nicely over 13 numbers. Possibly bound for a million reasonably priced estate cars nationwide but also likely to evoke many a good memory of chemically enhanced nights.
7 October, 2003 - 23:00 — Peter Mattinson