Music Reviews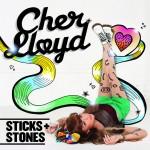 Cher Lloyd Sticks + Stones
(Syco)
Buy it from Insound

In a recent interview, boy-band JLS revealed how devastated they were that, after finishing runners-up on 2008's X Factor behind Alexandra Burke, Simon Cowell passed up the opportunity to sign them, despite the fact they practically begged him to. "As soon as the show finished, we asked him to give us a deal," said the sensitive one; "he just point-blank refused," cooed the non-threatening one, non-threateningly. "But," pouted the pretty one, while simultaneously doing a backflip and lifting his t-shirt to show a sculpted six-pack, "it turned out to be the best thing to ever happen to us!" "…", added the one who no-one outside of his immediate family realises exists.
Despite the fact all the quotes in the previous paragraph were entirely fabricated, the story JLS were alluding to very much did happen, and they could well have a point. Simon Cowell may make an obscene amount of money through his myriad entertainment enterprises, but the acts signed to his label, Syco, do tend to be of a certain type. The current buzz around Tinie Tempah acolyte, Labrinth, notwithstanding, most of his acts are bedroom balladeers, and very lucrative they prove for him too. Not all his protégés are overjoyed at this approach – witness the laughable struggle of Matt Cardle and his attempts to realign himself as a credible musician – and JLS have serendipitously avoided the same fate. They're now free to work with Calvin Harris and Dev, and make chart-friendly dance-pop instead of being forced to become Boyz II Men II.
Which leaves us with the interesting conundrum: what do you do with a problem like Cher Lloyd? The teenage singer, fourth on last year's X Factor behind implausibly fresh-faced One Direction, Rebecca Ferguson and "Credibility" Cardle, polarised opinion with her brash style and fondness for rapping. All four finalists are currently signed with Syco and of the quartet, it's Cher who seems to be the least obvious fit. Push her towards lighters-aloft, supermarket-friendly balladry and you risk losing what made her different in the first place. Let her do her thing, and you're letting an 18-year-old dictate her own career path while going against strongly entrenched Syco policy.
Lloyd's debut album, Sticks + Stones, starts better than you'd ever dared imagine. Despite her misguided assumption that she's "got a flow that will make your mother and your father call the cops," opening track, Grow Up, is an incredibly fun slice of bratty, bubblegum dancehall. Her rap style is raw at best, and the cameo from Busta Rhymes is odd, but there's plenty of room in the ongoing soap opera of pop for a pantomime, carefree, outspoken, anti-authority teen. She's following the fine tradition set by artists such as Althea & Donna, Vanilla and Daphne & Celeste. This trend continues with following track, Want U Back, which is packed with hooks and has Cher's personality stamped all over it.
Current single, With Ur Love, is another good, catchy song, save for a hateful Mike Posner guest spot, which paints him to be the kind of lecherous predator you pray doesn't take your daughter to prom. However, the turning point of Sticks + Stones arrives with Swagger Jagger; comfortably the most bizarre song to reach the top of the UK charts in 2011. Swagger Jagger is a mess – a brain-melting mix of sirens, dubstep beats, shouty vocals, and the chorus to 19th Century folk ballad, Oh My Darling, Clementine. Lloyd is full of bravado and self-confidence, informing us that we can't stop "tweetin' 'bout" and "YouTubin'" her, but then telling her "haters" (which are apparently legion) that it was "very, very, very nice to meet ya."
Swagger Jagger will make your mind unravel and, fittingly, the album then begins to do the same. Beautiful People is the kind of syrupy, pointless ballad Syco-affiliated acts specialise in, and completely the wrong kind of song for Cher Lloyd now she's not preoccupied with trying to win votes from suburban housewives on primetime television. Over The Moon repeats the same "trick" as Swagger Jagger, grafting an in-your-face verse to an ill-fitting, camp chorus to create a genetically-modified monster. And quite frankly, the less said about the 21st Century re-working of Buffalo Stance, here entitled Playa Boi, the better.
After a promising opening trio of tracks, Sticks + Stones wanes badly, and begins to sound more and more like it's been focus-grouped by industry executives in pursuit of a quick buck until there's barely any semblance of character left. It's understandable really, Cher Lloyd is living the dream of millions of girls worldwide and isn't likely to upset the applecart.
The sad fact is, Cher Lloyd may need a change of direction to achieve any kind of longevity. She's positioned at the end of the market where her fans will soon grow up and move on and – depressing as this is – she could be on the pop scrapheap before she's out of her teens. There is a glimmer of hope though; the penultimate song, Dub On The Track, shows the kind of sound she might be wise to pursue. It may sound like a cut-off from the Katy B album, and Cher may sound slightly overwhelmed by the production, but street-smart, urban-flavoured pop could be the way forward for her. Featuring Mic Righteous, Ghetts and Dot Rotten, Dub On The Track doesn't forge a brave new way ahead for music, but it's a sliver of hope from an otherwise dispiriting final two-thirds of the album.
It appears Cher Lloyd is signed to a label who have limited ideas of what best to do with her. Counter-intuitive as it may sound, Sticks + Stones bombing and Lloyd being dropped could be a blessing in disguise. Besides, she wouldn't be the first X Factor alumnus to find success outside of the all-encompassing Cowell media empire.
11 November, 2011 - 05:21 — Joe Rivers