Music Reviews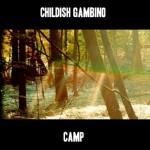 Childish Gambino Camp
(Glass Note)
Buy it from Insound

In spite of his emerging status as alternative hero, after his tireless work as a TV writer/actor/producer and now rapper, Donald Glover is vulnerable. Beneath his hilarious one-liner put-downs and belted-out braggadocio he's got a lot to prove on Camp, tackling issues of race, love, and his family's transition from poverty to prosperity. There are no guest spots – this is Glover intimately mapping out his personality as completely as possible, warts and all.
So it helps if you're already familiar with Glover's work, before joining him at the deep end. This is his fourth studio album, but his first proper physical release – and it's the tightest thing he's done so far, in terms of its huge production and cohesive themes (comparisons to Kanye West are rife), plus it's clear he's honed down his rapping style a lot for this record. I first got to know Glover as an actor; he plays nerd/jock anomaly Troy on US sitcom Community (the best show on TV!) and he's absolutely hilarious. At times he channels a similar sort of humour – choice lines like "realest motherfucker in the game, like Tron" from You See Me are contradictorily confrontational and dorky – but his intentions on Camp are not so light-hearted.
The album's main theme is race, lines like the above illustrating what Glover portrays as a conflict between being black and his lack of 'hood know-how, tackling the stereotype of 'acting white' most directly on Hold You Down and Fire Fly. He is "the only black kid at a Sufjan concert", lamenting that "It's hard to make HOV the footsteps you following / Especially when your niggas look like Carlton". But musically it doesn't seem that much different to a mainstream hip-hop release, especially with his lavishly-produced beats and hooks, so it's particularly odd that he professes to be making "something [black kids] wanna say but can't cause they too embarrassed", especially with this year's explosion of alternative hip-hop. I feel like he's not so much challenging the negative stereotype of 'acting white' as inadvertently reinforcing it through his preoccupation with race – although I guess he's bugged by his hipster audience, it's frustrating to listen to Glover contradict himself about it.
But at the same time, his contradictions are what make him individual. Take Heartbeat, a song which flips between a lonely minor-key piano and blaring electro basslines, as Glover tries to make his mind up on the woman he's describing, torn between repulsion and attraction. Sonically, it feels like a bit of a failed experiment, but it's nonetheless interesting to hear something sounding so tense, intertwining and contrasting both his sensitive and nasty sides.
The record is contextualised by the closing monologue, as the beat of That Power drops into live instrumentation (with an addictive violin riff), Glover's charming story about a girl he met as a teenager, and how her rejection changed him. He explains why he wears his heart on his sleeve – it's such a cute story that it redeems, in a way, the rest of the record. Perhaps it's also because I was so inclined to love Glover after his work on Community, but I was surprised by how misogynistic Camp is (Kids in particular offends), as well as the corniness of some of the hooks. In spite of it all, Glover just about won me over, because at least the record is honest. Even if his insecurities can elicit a few cringes (he sounds genuinely upset with his haters on All The Shine), there's enough empowered anthems like Bonfire and Outside for Childish Gambino to pull through.
17 November, 2011 - 08:31 — Stephen Wragg