Music Reviews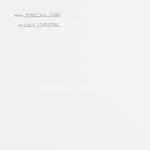 Chris Stapleton Starting Over
(Sound Records)

Chris Stapleton has never been one for flashiness. Before his excellent debut Traveller, the singer-songwriter made his living by selling songs to Nashville stars. Someone eventually noticed his obvious talent, and since then, he's stuck to his guns and continued to make steady and soulful country music. His tastefulness is obvious from the moment you see the cover for Starting Over, his fourth album. By recalling the art of The Beatles' White Album, Stapleton is telling you that he's going to keep doing simple, good work. For an album that's this sturdy, anything other than a plain cover would be too much.
For most of Starting Over, Stapleton hovers between the two or three types of songs that he can write the easiest. The opening title track is one Stapleton could have made in his sleep, but the predictable charm works. Once Stapleton's wife Morgane adds some harmonies, it feels like coming home. It isn't a big step forward, but it's comfortable for now. The issue for Stapleton is that he comes back to these textures repeatedly for this album. On the lowkey When I'm With You, he duets with Morgane about "[feeling] like a dreamer that's had all of his dreams come true." Joy of My Life bares an even closer resemblance to the title track, as subtle percussion and finicky acoustic guitar licks punctuate a forgettable song. These tracks are certainly acceptable, but you know he can do better.
For the most part, Stapleton's greatest songs always contain longing or anger. He's got the husky tenor to beautifully convey brokenheartedness, so it's no wonder that the best moments on this record follow in the path of his aching 2015 cut Parachute or 2017's Second One to Know. On Cold, he sings that his heart "shattered like a rock through a window" with icy piano instrumentation underneath. While the lyricism isn't sharp, his wailing vocals on the chorus sells his distress. On Watch You Burn, he discusses the aftermath of the 2017 Las Vegas shooting at the Route 91 Harvest music festival. The song lacks subtlety, but it's got honest rage, snarling electric guitars, and gospel backing vocals. It's a simplified way to explain the appeal of Starting Over: Stapleton's writing is solid, but his vocals, arrangements, and instrumentation imbue most of these songs with something remarkable.
23 November, 2020 - 05:38 — Ethan Beck