Music Reviews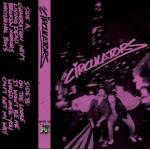 The Circulators S/T
(Willowhouse)

This quick and dirty debut from San Francisco quartet The Circulators may be the perfect antidote to my previous review subject, Måneskin's monstrous Rush! Packing eight searing tunes into a taut nineteen minutes, S/T offers a whistlestop tour through the history of American punk rock, with nods to early pioneers like The Stooges, '70s staples like The Ramones, '80s hardcore, and the heavier edge of the power-pop spectrum.
As a serious power-pop nerd, I initially gravitated to the more melodic cuts, with It Won't Be Me proving an immediate favourite. Reminiscent of the much-missed Jay Reatard's late career output, it incorporates some raw harmonies and an unexpectedly lovely bridge, while retaining a subtle sneer throughout. Wonderful stuff.
Generation Next is another standout. The most obvious touchstone for me is the Zero Boys classic debut Vicious Circle; indeed, this sounds like a distant relative to that band's hardcore anthem Amphetamine Addiction. Elsewhere Nocturnal Boys evokes both the Exploding Hearts (I almost expected it to burst into Thorns in Roses) and Raw Power-era Stooges, while frenetic closer Can't Get My Way adds welcome elements of glam to the mix.
What S/T lacks in fresh ideas and pioneering spirit, it makes up for with passion, intensity and quality control. There are no missteps here; nothing could be dismissed as filler. It's a joyously brief record to blast out on repeat and sometimes that's all you need.
26 January, 2023 - 18:59 — David Coleman