Music Reviews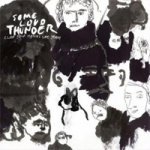 Clap Your Hands Say Yeah Some Loud Thunder
(Self-released (US); Wichita (UK))

With their self-titled, self-released debut album, Clap Your Hand Say Yeah gave us something that pop music desperately needed: pure, unadulterated fun. Add to that some feverish internet hype and a sound that evoked the names of indie rock heavyweights from Neutral Milk Hotel, Modest Mouse, the Talking Heads, and Radiohead, and you had a hipsters wet dream. And so the question that haunts all artists had to be asked: would they crumble under the pressure of instant success? Needless to say expectations were high.
For their sophomore effort, the band recruited Dave Fridmann, the talented producer behind bands like Mogwai, Low, and the Flaming Lips. The album's opener, Some Loud Thunder, is catchy and quirky and a song that could have easily been on their debut album. I was, however, too busy making sure there wasn't something terribly wrong with my speakers to appreciate this. Inexplicably, it seems as if Fridmann was given carte blanche to tinker with the production of this album past the realm of experimentation and, as in this case, into the realm of the inaudible. Sound in the lower frequencies is murky at best and unbearable at worst throughout a good chunk of the album.
But it's not all bad... in fact, a lot of it is very good. This is music that does not suffer from a lack of ideas. On Emily Jean and Mama, Won't You Keep Them Castles In the Air and Burning, there is a faux "backup chorus" which consists of Alec Ounsworth's vocals looped in a falsetto. This creates a very 1950's bubblegum pop feel that is pretty fresh. Love Song No. 7 begins with a piano riff that could have been penned by Wolf Parade's Spencer Krug. Tension builds and releases through the vocals and massive drums before it's taken away by a bass line Roger Waters would be proud of. Satan Said Dance is a tongue-in-cheek number that manages to be creepy and danceable at the same time. Yankee Go Home is one of the better pop songs on the record although the chorus brought me flashbacks of mid-90's-era Red Hot Chili Peppers.
With Some Loud Thunder, CYHSY may have polarized a lot of fans that would have been ecstatic with another dose of the bliss they experienced the first time around. Interpol and the Strokes come to mind as two much-hyped New York bands that used that formula and rewarded fans with solid, though unadventurous "stay-the-course" sophomore records. Apparently, CYHSY has grander ambitions, and despite some missteps (sadly, a few egregious ones), Some Loud Thunder is successful in displaying the group's breadth of talent and ideas. I for one, will think of this record as a promising self-released EP. In that spirit, I can't wait for their next proper album.
16 February, 2007 - 21:50 — Alejandro Martinez