Music Reviews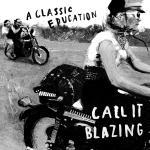 A Classic Education Call it Blazing
(Lefse Records)

The indie rock landscape is as tumultuous as it is dynamic, but one pattern is as predictable as congestion on the M25: whenever a pioneering outfit makes landfall, a wave of eager imitators inevitably washes ashore. In this second category, we find these six Bologna-based gentlemen. In most instances, a group's sound is described by intangible adjectives that convey some subjective impression. But not A Classic Education. Call it Blazing is, quite simply, what would happen if the lovechild of James Mercer and Deerhunter bore extreme resemblance to its parents.
That description may seem somewhat unflattering, but there isn't anything embarrassing about this musical lineage. This straightforward debut is serviceable in its execution. The arrangements are strong, Canadian-born vocalist Jonathan Clancy showcases a knack for melody delivered with stylish slur, and instrumental embellishments create a sound that, while not unique, is engaging nonetheless. A Classic Education have created a set that demonstrates proficiency while leaning heavily on an established style. Overall, it's a very smart approach. They have our ears, and we're forced to consider what the band could do, or perhaps will do, when they decide to stop emulating a sound and start defining their own.
It comes as no surprise, then, that the most luminous element of Call it Blazing is its potential. The violin-laden interludes in Spin Me Round bring on a fresh aesthetic, and high-octane number Can you Feel the Backwash grabs hold immediately with an aggressive pentatonic riff that complements Clancy's soaring vocal line in impressive fashion. Closer Night Owl offers some variation with its compound meter and holds hope for future forays into this less-frequented rhythmic realm.
Call it Blazing proves that this group possesses all the tools. In this inaugural instance, however, they've been used to produce a generic structure from existing blueprints. No budding act will go into the studio trying to sound like A Classic Education. Though slightly short of super, A Classic Education are capable of leaping from innovator to pioneer in a single bound. If their next album follows on through on the promise shown here, I expect to pen a very positive review.

8 December, 2011 - 05:34 — Benjamin Jones