Music Reviews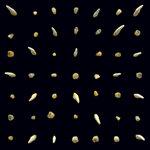 clipping. Visions of Bodies Being Burned
(Sub Pop)

"Death wasn't really the worst part," raps Daveed Diggs of clipping. at the start of Pain Everyday, a highlight on their bloody, horrific new album Visions of Bodies Being Burned. The LA hip-hop trio has always been fond of noisy beats, deadly flows from Diggs, and an impenetrable intensity. But their previous album, 2019's There Existed an Addiction to Blood, presented a change of pace as they ventured into the tone of 1970s classic thriller films and 1990s horrorcore rap music, emphasizing a goriness that was always under the surface. Bodies Being Burned, despite coming out a year later, doesn't feel like outtakes or leftovers. It's a sharpening of the ideas introduced on Addiction to Blood, performed with clipping.'s classic graveness which only supports how scary this album can be.
A whole lot of that sharpness comes from the skittering, thumping sounds that come courtesy of ex-Captain Ahab member Jonathan Snipes and William Huston. The duo behind the production gets a lot out of a little here. On the single Say the Name, a beat is built out of a Geto Boys quote ("Candlesticks in the dark, visions of bodies being burned") being repeated over battering percussion. The song hits a peak at the end as haunting orchestrations and synth melodies get overlaid with pounding live cymbals and drums. Early highlight '98 Neve Campbell opens with the sound of a door pounding, right out of a bloody 80s horror classic. It's startling when you first hear it, but completely enjoyable once you return to it.
Daveed Diggs doesn't skimp out either, creating excellent stories of paranoia and tenseness. The penultimate cut, Enlacing, recalls the hazy, psychedelic horror of a film like Mandy, complete with references to Lovecraft and the Righteous Brothers. On Check the Lock, Diggs shares a story of a drug dealer "sleeping in his Chucks" because of deep paranoia. That theme is emphasized by the song's chorus, where the dealer makes sure his home is locked up every time he moves by the door. Body for the Pile captures the death of a police officer, but the most interesting parts are the details. Diggs notes the cop's choice of cigarettes and sandwiches before bringing the police to their demise. It concludes with the effects of an alien spacecraft exploding run under a crunching distortion, which only adds to the song's looming dread. It's a perfect clipping. tune, as the askew production and Diggs' creeping flow paint a unique picture—a formula repeated across Visions of Bodies Being Burned to much success.
31 October, 2020 - 04:12 — Ethan Gordon