Music Reviews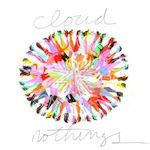 Cloud Nothings Cloud Nothings
(Carpark Records)
Buy it from Insound

Coming into my musical existence, I immediately fell in love with strong male singer-songwriters like Elvis Costello, John Mellencamp, Billy Bragg, and Neil Diamond. Still holding tight to my copy of Hot August Night, I've always searched far and wide for more of the same as I've continued my rich musical life. While I may not have found a legend this time around, Cloud Nothings, the stage name for Cleveland teenager Dylan Baldi, offers up a dose of lo-fi pop that instills a microscopic fragment of magic those strong-willed musical deities first forged.
Nowadays, it seems most young guys are trying to make ethereal bedroom pop that sounds like a hipster Enya. But Baldi has no such intentions; instead, the sound he crafts is exactly what you'd expect from a young white male being locked away in a room slaving away on his own: dirty, filthy songs far removed from his dreamy contemporaries, taking the pain and heartache of youth and delivering it up in tiny bursts of punk-esque frustration. The structures of the songs are simple, stripped to the bone, and full of a frenetic energy and appeal.
From the opening notes of album opener Understand at All, the minimalist sound, spearheaded by a jangly guitar and most basic of rhythm sections, tears away at the walls of your sensibilities, implanting themselves into your brain, and festering and tearing open old memories of succubus ex-girlfriends. Songs like Not Important, with a sort of light and breezy feel between the screaming fits of rage, and You're Not That Good at Anything, with a down-home, jumbo-sized guitar that immediately morphs back to its punk roots, are the height of Baldi's emotional state throughout the LP: pissed off, screaming through his newly formed adult vocal chords, the raspy echoes of a kid who got eaten alive by some she-devil, striking back at last with the maturity of a cocky 17-year-old (the song Rock features the lyric "you love me but now we're both dead".) Even to those who have never been there before, Baldi's portrayal will strike at the heartstrings of youth when music was simple, a guitar could change the world, and everything else had either zero meaning or way too much.
The whole album doesn't stem from an emotional youth in the throws of romantic devastation. Dare I say, several tracks are actually happy and sweet. The instantly nostalgic guitar of Should Have reminds us that being young isn't completely terrible. In the track, Baldi goes for more sweet, falsetto lyrics, telling a girl "I always knew I'd follow you/Now I know that it's much better", giving away some of that angst for a fairly cutesy sentiment that adds variety to the album and shows Baldi's range as a legit indie pop artist. Even without being nearly as sugar-y, On the Radio is at least enough of a change of pace to merit some attention, even though it's slightly more visceral than Should Have. Heartbeat may well be the most sturdy of tracks, taking that feeling of forlorn and making it fresh thanks to some dance-y guitars and the lyrical hook of "I don't have a heartbeat/Why do you?" sung ad nauseam; it's showing of his age and of a sort of brilliance beyond his years that harks back to the yesteryear of indie pop music.
Clearly, Baldi's no Costello or Mellencamp. But if you're looking for a catchy voice amidst the sea of bedroom outfits, Cloud Nothings is a strong contender for someone to continually keep an ear open for.
Further Reading: An interview with Cloud Nothings
29 January, 2011 - 10:23 — Chris Coplan