Music Reviews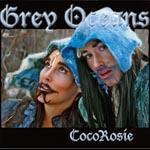 CocoRosie Grey Oceans
(Sub Pop)

Somewhere there's a life-sized dollhouse set against a muted and colorless backdrop of the appropriately titled Grey Oceans where sisters, Bianca and Sierra, sit and wallow in their own fantastical microcosm.

As traveled and world-conscious as they are, (a good portion of Grey Oceans was recorded in Buenos Aires), the two sisters, or CocoRosie, are spinners of a different sort of narrative web, one that seems immersed in adult contemporary fairytales that rely on music box enthusiasm (Undertaker), surrealistic imagination (The Moon Asked The Crow) and childhood joviality-turned-dance club drum-n-bass (Hopscotch). With a range of influences seeping their way into the world CocoRosie has built around them, it makes sense that Grey Oceans is the inconsistent effort that you hear. On the other hand, this inconsistency awards them the privilege of allowing their personalities to anchor their collective ambition.

To sum up, Sierra beautifies while Bianca melodically waxes Goblin-esque, her voice some almost perfect accompaniment to Tweety's Bird octogenarian caretaker. With Orient-flavors and subtle electronica, Grey Oceans begins with Trinity's Crying, a layered duet whose looseness is like quiet chaos. At points it sounds like unsynchronized ideas, excited but unsure how to come together. Smokey Taboo follows with more of an aim: collaged vocal melodies wander from ear to ear with hand drums keeping the track grounded.

Hopscotch interestingly begins as a jump rope ditty and transitions into a wonderfully performed trance beat. The song's use of 'Nawlins styled piano is one of the album's most inspired experiments.

In fact, it seems like the best moments of Grey Oceans revolve around piano, the title track and the dreamy introduction to Lemonade coming to mind. Even the instrument's sporadic use in Undertaker, which is book-ended by an old recording of Sierra and Bianca's mother singing, seems to bless the music with enough feeling to make it at least sound heartfelt as opposed to self-indulgent.

Otherwise, they hijack Scott Storch with R.I.P. Burn Face and The Moon Asked The Crow and then joke around a little too long with dance beat clichés for Fairy Paradise. Grey Oceans is rooted in its lack of vivacity and brightness, so much so that attempts at energizing the mix seem pointless. The album ping pongs between its beautiful moments and its dullness, though I would never call it boring. CocoRosie dangerously toys with pretension, almost to see how far they can push it, but there's something genuinely gorgeous about what they do. Grey Oceans could stand to be a little less grey, though. And, CocoRosie could use a little more Sun.
14 July, 2010 - 04:52 — Sean Caldwell