Music Reviews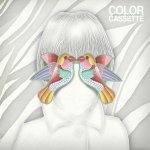 Color Cassette Forever Sparrow
(Autres Directions In Music)
Buy it from Insound

I think of two albums I've heard recently: Praveen & Benoît's Song Spun Simla and Drum's Not Dead by Liars.

Song Spun Simla is a sound collaged folk album utilizing "slice of life" environmental energy and electronic enhancements. Drum's Not Dead is an abrasive concept album, powered by dissonant and unrelenting backdrops with vocal harmonies that attempt narrative.

After listening to Forever Sparrow, the debut full-length by Kentucky based collaboration Color Cassette, I immediately thought of the two aforementioned albums, feeling as though Color Cassette sound-gardeners Jason Corder (Off The Sky) and Lendin Hopes (Set In Sand) combined both concepts into a cohesive and organic lullaby. As swelling fields of consonance and incidental commotion couple with lush acoustic guitar strings and lightly sung harmony, Color Cassette's seemingly vast soundscapes are both gorgeous and contemplative. Its only real problem is that it has an actual story.

With 14 guest musicians and the sound & vision inspired by Corder and Hopes, Forever Sparrow lovingly documents a young boy's entrance into an enchanted forest and his Kafka-esque, and arbitrary, transformation into a sparrow. Admittedly, I liked the album more when I didn't know what it was about, as its experimental complexities wind up cheapened at the hands of its cardboard narrative.

Because the songs are mostly fragmented, more like layered poetic musings or abstract fairy tale chapters, Forever Sparrow feels more like a unified song. "Please take my hand," Corder sings at the album's onset (Black Nest Waters), mystic tour guide extraordinaire through music box chimes (Once Upon A Timid Willow), avant folk chaos (Fable Cinder) and electro-folk (Lost At Least At Last).

One of the album's sweeter moments, a waltz called Angels In Ashes, demonstrates in Color Cassette sensitivity to detail. The song begins with night sounds and flows into distant and echoing strings and leads to muted static as a syncopated percussion element. This attention, which is thankfully subtle and blended, adds a degree of invention to what could otherwise be considered indistinguishable. Songwriting and structure doesn't necessarily kick Forever Sparrow into any new territory, but production DOES make it special. Such is definitely the case with instrumental Small Town Smoker, which takes a repetitious guitar loop and sprinkles it with brushed percussion and sporadic droid noise, deepening it, carrying its intended modern mysticism.

The album's title track makes great use of its extensive personnel, exchanging most of the electricity for grouped percussion and fractured song play. It's a meditatively joyous piece of music, and its erratic form fluidly glides itself into the strange and melancholic Ballad For A Yeller Bastard Bird. La Fin Du Monde, a song more relatable to the music Corder and Hopes typically make, leads the album to a quiet close.

Another engaged and refashioned version of traditional folk music, Color Cassette's Forever Sparrow is undeniably pretty, though its injection of Disney-friendly Mother Goose-ary should be met with deaf ears. The romantic and mystic view of birds and their freedom (Free Bird?) has been well explored and need not be further entertained, least of all through music. Sparrows can't make music at all, so really how extraordinary could their voyage be?
23 January, 2009 - 09:18 — Sean Caldwell