Music Reviews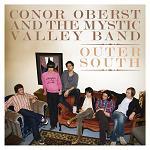 Conor Oberst Outer South
(Merge Records)
Buy it from Insound

In the opening track Slowly (Oh So Slowly) from his latest release Outer South, Oberst sings "potential you're a loaded line" presenting a sentiment to which the singer-songwriter must be all too familiar with. Ever since Oberst had this songwriter of a generation tag placed upon his skinny, white shoulders, he has been lauded as having the potential to be this and that, most notably aligned to another singer who was pretty well known within the sixties folk scene. But in his latest releases, most notably 2007's Cassadaga and last year's self-titled release, it sounds like Oberst is coming to terms with his fame and is not, if he ever was, burdened by the weight of such expectations. In fact, he sounds as though he's finding joy in the everyday and this translates in his work. While self doubt still rears its head from time to time, Oberst is no longer the kid wearing his heart so heavily on his sleeve but this shift away from vulnerable introspection has not removed his relevance as a songwriter.
His album last year turned out to be immensely likeable and some his most self-effacing work to date and perhaps in some form of egalitarian gesture, Oberst decided to let his band mates share in the spotlight this time around. Good idea? Well, not quite. Oberst's material is superior here but this is not to say any of his band mates are incompetent. Most of their contributions fair okay, if slightly lightweight. But the result of all these different musical voices and directions is a work which seems scattered and unrealised.
Outer South's second track, To All the Lights in the Windows, sees Oberst in typical fashion mixing history and religion to come up with something enjoyable, albeit a little overambitious. The song hints at the slightly more existential, mythical direction of Oberst's songwriting but the track is made relatable through the warm, direct chorus line. Other highlights include the power-pop jangle of Cabbage Town and the jaunty ramshackle of Spoiled.
But like his self titled album last year, all signs of the boy who sung the beautifully numbing Lola are not gone. Last year amongst all the joyful songs about being on the road, he gave us the amazing Milk Thistle and on this album he delivers White Shoes, a desperate plea to a lover. There is something fragile but also urgent when he delivers the line: "And if you want to be common / I will claim that I tamed you." Backed only by acoustic guitar, the song is stark, haunting and lovely, hinting at the old Bright Eyes, the one girls want to wrap up and take home believing they can save him. The only other quiet moment on the album comes with the introduction of I Got The Reason which is perhaps the album's highlight. The song begins quietly with some guitar fingerpicking and the distant sound of an organ creeping in at the edges, while Oberst muses over those who work while we sleep. As if sharing some folk wisdom with the listener, Oberst sings the almost surreal line: "Do right by them / Work a little in your dreams." He then brings us sharply to the present, merging images of postmodernism with spiritualism, and the elusive search for meaning.
As for the non-Oberst tracks, none are particularly memorable and they mostly serve to make up the filler on the album. Perhaps most enjoyable is Nic Freitas' contributions. Big Black Nothing is a rollicking country paean to paranoia and the piano infused melody of Bloodline is largely enjoyable. The songs penned by Rilo Kiley drummer, Jason Boesel, particularly Eagle on a Pole, are pretty bland country fare. Taylor Hollingsworth's closer Snake Hill sounds like it's trying to emanate The Band but on repeated listens, the charm wears off rather quickly.
All in all Outer South sounds exactly like it's context: a record created on the road, tunes formed in some form of communal setting where the guitar was passed around, sing-alongs and whisky sharing ensuing. And as a Conor fan, it's tempting to say that the rough edges of the album are just meant to be the vibe of the record. But that doesn't really cut it. Having said that, while Outer South may represent a step back from last year's work, it is perhaps another step forward for Oberst in terms of his evolution as an artist. While such a process may produce some patchy results along the way, one hope's Oberst's evolution will be like those of the greats… never-ending.
5 June, 2009 - 12:16 — Cara Nash