Music Reviews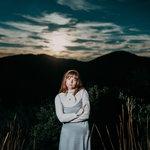 Courtney Marie Andrews Old Flowers
(Fat Possum)
Buy it from Insound

At the end of a relationship, you often go back over broken pieces and different moments, picking apart "what went wrong?" in the most dramatic way possible. It's often a procedure that seems empty and frustrating, but one that everyone seems to do. By reliving the "what ifs," it often slows down the process of moving on. On her latest album, Old Flowers, Courtney Marie Andrews understands that the feeling is natural. While it may be unhealthy, it isn't unusual. On the dusty but comforting Burlap String, she sifts through memories and shards of her previous relationship, singing that "there's no replacing someone like you" over crunching drum work and hints of pedal steel guitar. It's a haunting opener, but it's also the ideal starting point for an album that skillfully captures the strenuous process of getting over a partner.
This is Marie Andrews' fifth album, but it still feels like her songwriting is just as fresh as it was on her debut. Her penchant for awkward details and emotional vulnerability has only gotten stronger over the course of her discography, but Old Flowers feels like the culmination of those traits. If 2018's Rough Around the Edges is the platonic ideal of a Courtney Marie Andrews love song, then Guilty is her ultimate breakup song. With a straightforward piano-bass-drums arrangement that calls to mind the singer-songwriters of the 1970s, the song might be one of her best. It's probably easiest summed up in one detail: on the chorus' line "I cannot give my love to you," a ringing piano chord morphs from major to minor. It's a small part, but it might just be the most affecting choice on the entire album.
All of that being said, Old Flowers isn't flawless, and most of the issues stem from instrumentation and production. The lead single, If I Told, has a lovely atmosphere—based on strummed guitars and hints of keys—but the vocals feel at a remove; as if there's too much going on in the layering. On Carnival Dream, the thumping pianos and rolling drums transition into a morbid, unpleasant funeral march by the end. Even with the song ending on the line "I may never let love in," the instrumentation feels a bit much. With moments like that, you're often hoping for the dynamic arrangements and textures found on her previous album, May Your Kindness Remain, even if the songwriting remains equally as good.
In spite of those issues, Old Flowers is still one of her most consistent and wonderful collections of unique, heartfelt, and depressing songs yet, even if it's somewhat hampered by the need to make it "as cathartic and minimal as possible." While Andrew Sarlo's production is occasionally sedate, the writing is still exemplary. The quality is clearest on the closer, Ships in the Night, where Marie Andrews recounts the relationship through a postcard. Over electric piano chords, she closes the book on the relationship perfectly: "I'm sending you my love and nothing more."
9 August, 2020 - 22:11 — Ethan Gordon