Music Reviews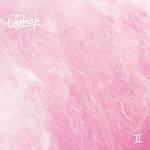 The Courtneys The Courtneys II
(Flying Nun)
Buy it from Insound

The Courtneys aptly eschew any showy presentation on The Courtneys II, as it depicts a fitting continuation of the Vancouver band's debut set of melodic power pop. It may give the idea that the trio succumb to slackened discipline, that they've honed a formula so well that they're confident enough to leave an open interpretation. And at first glance the changes are minimal: Jenn Twynn Payne still has an ear for romantic-minded accounts, and still conveys these confessionals with a gushing jubilance even if things never seem to go her way. Except that now they've evolved into a tightly-knit unit that strips away any semblance of amateurism and flexes their songwriting muscles even further.
Changes abound throughout The Courtneys' scrappy anthems: Payne's mellifluous vocals are clearer and less shouty, as she pounds the skins with impeccable timing while guitarist Courtney Loove lets loose some wicked fuzz tones. Expansive, free-flowing waves of drifting noise morph into intricate riffs on spirited cuts like Tour and Minessota, where the constant backbeat is a necessary element for Loove and bassist Sydney Koke to surround their rhythmic interplay on these determined grooves. The winding Lost Boys, a homage to the cult horror film of the same name, gallops apace with a droning thrum of delay and fuzz like classic The Clean. Flying Nun must've been paying attention; they're now the first non-New Zealand band to join the vastly influential imprint.
The Courtneys' hypnotic songs sprint with gleeful release, triumphantly charging ahead with hooks and licks to spare. It's a densely packed dose of pure gaiety that hides its complex arrangements well, seeing as the trio play against each other with emphatic ease. Applied with both spunk and sophistication, The Courtneys II is a laudable follow-up that deftly captures their growing musical rapport.
21 February, 2017 - 05:15 — Juan Edgardo Rodriguez