Music Reviews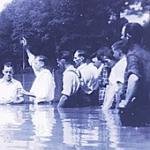 Crooked Fingers Reservoir Songs EP
(Merge)

Only (former Archers of Loaf frontman) Eric Bachmann could inject an added dose of misery, impending gloom and vocal restraint to some random covers on this 5-track EP, the third offering from his Crooked Fingers project.
His recent incarnations (Crooked Fingers, Barry Black with Ben Folds, and a new film score) have left the mid-90's indie-fuzz far behind in favour of banjo and lap steel. The eclectic collection of covers reek of a Carolinian backwoods, chaw-spitting orchestra pulled off with the same trademark, nonchalant intensity that often ignited his Archers quartet into a sonic barrage of off-kilter melody.
On the Kris Kristofferson (!) cover of Sunday Morning Coming Down Bachmann plaintively croaks "The beer I had for breakfast wasn't bad, so I had another for dessert" in a been there before, matter-of-fact manner. A Springsteen reinterpretation of The River pops up as does a throaty, teeth-clenched delivery on Under Pressure. But the renovated Prince classic When You Were Mine is an acoustic, heartbreaking rocking chair gem, a custom fit for Bachmann. "When you were mine you were all I ever wanted to do / Passing my time / Following him whenever he's with you / I love you more than I did when you were mine." The solemn background harmony coincides perfectly with his hungover and half-stoned presence, a simple sadness rather than a mopey (J Mascis) or decidedly barely-conscious and bitter (Mark Lanegan) final product.
31 October, 2002 - 00:00 — Chris Conti