Music Reviews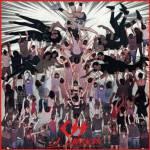 CSS La Liberación
(Co-operative music)
Buy it from Insound

Once you get past the borderline alcoholism and heavy smoking, not to mention the frequent bed-hopping and blatant misogyny, Don Draper's not a bad role model to have as far as television characters go. Much wisdom can be gathered from his philosophical musings disguised as sales pitches, and Brazilian act CSS may well have been paying close attention to his mantra for season four - 'If you don't like what's being said about you, change the conversation' - when it came to naming their third album. By titling it La Liberación they've decided to frame their declining fan base and loss of a record deal as a new start, and while it may be slightly dishonest of them to do so, at least the name's far less embarrassing than that of their previous effort Donkey.
Going by the title track alone, it might be the case that they actually do believe that their less than fortunate situation does equate to a liberation, it being a punky, Portuguese language number that's a fun little ball of energy. But for the rest of La Liberación, it's pretty much business as usual. In other words it is, like their rest of their back catalogue, very much a mixed bag that treads a very fine line between endearing naïvety and contrived quirkiness, one's tolerance for which may well be measured by the reaction to the opening of I Love You, in which frontwoman Lovefoxxx apes the opening of Miranda July's equally naïve/'quirky' Me and You and Everyone We Know by acting out both sides of a lovers conversation. Once that's over and done with it's actually not a bad song, hurtling along to a dramatic coda, even if Lovefoxxx does quite noticeably lose her conviction here, fumbling mid-line on the rather unpoetic 'like love... and shit'.
In fact, the opening few tracks may be the strongest run of songs that CSS have yet managed on an album - Hits Me Like a Rock, despite getting a bit of a kicking in our singles round-up, and being a rather anaemic choice of lead single (Bobby Gillespie's cameo is so weak it's barely even there), is actually, in the context of the album, a pleasantly charming bit of tropicália. And that's followed by what would have been a far better choice of single, City Grrrl, which is pretty much Like a G6 rewritten for suburban teenagers rather than drunk arseholes (of course there's a fair amount of cross-over between those two markets, but better to be ridiculously naïve – nobody's been shocked by pink hair and black lipstick since the seventies, surely? - than just obnoxious), and the trumpet sample that crops up in the second half may be a mere simple detail, but it lifts the song considerably. Almost as perky is You Could Have it All, which comes armed with a chorus that probably doesn't mean anything but is simple and catchy enough to make for a great sing-a-long, should the band manage to rekindle their relationship with their lost audience, and that jagged guitar sound that was everywhere during the band's peak in 2006.
For most of La Liberación, CSS are covering old ground, but that's probably for the best as the album's worst moments actually come when they try something a bit new. Partners in Crime throws in an unnecessary solo from pianist Mike Garson that aims for a gravitas the band will never be capable of reaching. Red Alert, despite mostly being based around a pleasantly laid back riff, starts off with a painful rap from Lovefoxxx (to be fair, City Grrrl also features a dodgy rap from guests Ssion, but that's so inept that it's surely meant to be funny, and even if it isn't it does include a Ciccone Youth reference so gets let off the hook for that).
They're never going to hit the highs of their debut again and there's certainly nothing as good as Music is My Hot Hot Sex on here, but then again there's nothing as deliberately irritating as Alala either. Excise a few tracks and La Liberación would make a good soundtrack to the summer, or what's left of it at least.
22 August, 2011 - 05:00 — Mark Davison